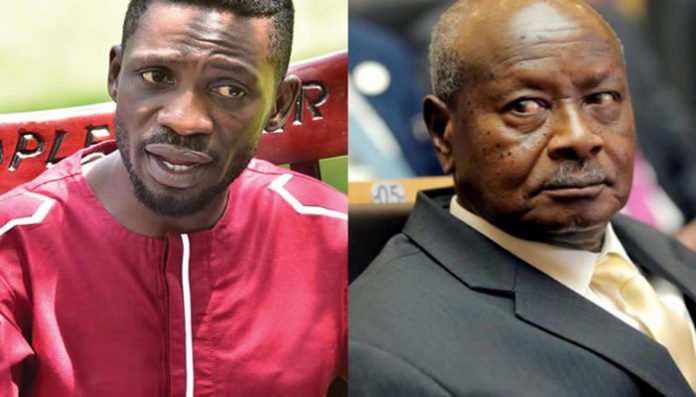 Today the Buganda Road Magistrates Court has given bail to Bobi Wine's promoter Andrew Mukasa also Known as Bajjo of Bajjo Events.
Bajjo has been in jail since he was charged with offensive communication and inciting violence. He has been detained since June 15 when he was picked by security officials from Centenary Park while he was addressing journalists on a marathon that he had organized to raise funds for Bobi Wine.
Bajjo and many other Ugandans from a range of categories including politicians, journalists, and many others have been victims of the new wave of politics in Uganda that rose with the coming of the now Kyadondo East Member of Parliament Robert Kyagulanyi, commonly known as Bobi Wine.
Many have been arrested, tortured, beaten and imprisoned including Kyagulanyi himself while others have lost their lives like the late Yasin Kawuma, Bobi Wine's former driver who was shot dead during the Arua Municipality Parliamentary by-election fracas last year that involved stoning of President Museveni's car.
How Bobi Wine entered Uganda's politics

Bobi Wine hit the political scene in Uganda in 2017 when he won the Kyadondo East Parliamentary by-election and entered the Parliament of Uganda. Before Kyagulanyi joined politics, he was seen as a mere musician though some of his songs were politically charged something that showed he might be having some interest in politics.
Politics is not a new chapter in Bobi Wine's family as his brother Eddy Yawe, also a musician stood for parliamentary election for Kiira Municipality in 2016 though he badly lost to FDC's Ibrahim Ssemujju Nganda.
Leading opposition candidate?

Since he entered politics in 2017, Bobi Wine has gone on to become the leading opposition leaders in Uganda overtaking even some of the long-standing opposition figures like Dr. Kiiza Besigye in popularity. Besigye has been the leading opposition contender to take on president Museveni though he has lost to him four times since 2001 in presidential elections.
The People Power wave

Kyagulanyi's fast rise in Uganda's politics has led to the birth of a pressure group known as "People Power" which many see as a political party though it is hasn't been registered with the Electoral Commission.
Bobi Wine himself is the brainchild of the People Power movement as he has referred to the constitution of Uganda that says that power belongs to people. The more he emphasized it, the more it became a slogan among his supporters and today it is being used to refer to everyone who supports him.
Several politicians and those who are aspiring for several political offices have already come up to identify themselves with the People Power movement having seen the impact the movement has already created among people country-wide.
Presidential Candidate?

The huge popularity that Kyagulanyi has gained has seen many Ugandans rank him as the suitable opposition candidate to challenge president Museveni in the 2021 presidential election. Bobi Wine himself, while in an interview with CNN declared that he is "seriously considering challenging president Museveni in 2021 presidential elections." However, this proposal of Bobi Wine being the leading opposition candidate to challenge president Museveni seemed to create some friction between his supporters and those who still think that four-time former presidential candidate Kiiza is still the ideal man to represent the opposition against Museveni who has been in power for 33 years.
A reckon of hope for the youth

Majority of the people that Bobi Wine has won over are the youth who view him as a savior and they hope that he has the potential to restore them and revive them for prosperity.
This was so evident in the previous protests that Bobi Wine has been spear-heading including the one against social media and mobile money taxes last year. These protests attracted thousands of youth who joined him on the streets of Kampala before they were dispersed by the police with tear gas and arresting some.
The youth and other Bobi Wine have also been staging several protests in different parts of the country demanding Bobi Wine's release on all occasions when he was detained by the police including the Arua fracas and recently when he was arrested on Easter Monday.
Panic in the government

Several traces of panic in the government caused by the threat posed by Bobi Wine's growing support. Some of the panic moves from the government against him including, several arrests banning all his music shows during the festive seasons and detaining him at his home to stop him from talking to his supporters.
There were rumors that the government was also planning to bring a bill to parliament requiring all aspirers of top political positions to be tested and establish whether they have ever used drugs. This move was widely criticized with many pointing out that it was targeting Bobi Wine who is thought to have used drugs while he was still staying in the ghetto trying to build his music career.
Division among top political parties

The rise of Bobi Wine has also caused some damage in some of the top political parties in the country with many of their prominent members coming out clearly and declare that they now belong the People Power pressure group led by Bobi Wine which is viewed as another political party in making.
Some of these members have gone on to declare that they will be standing for political offices under the People Power ticket something that has left their party leaders puzzled.
This has been worsened in cases where some party members are threatening to stand against their fellow party members for the same office, this has created a big dilemma in such parties.