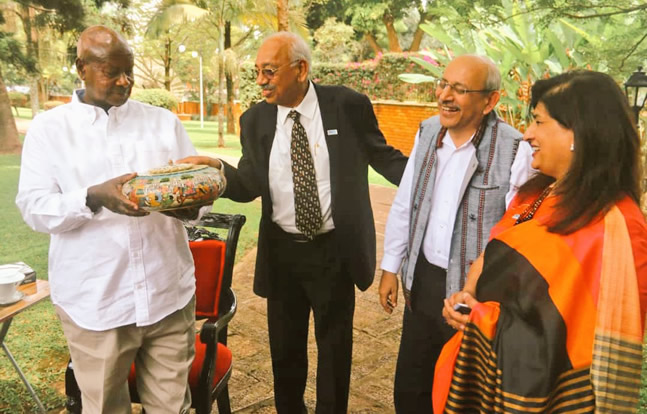 2019 seems to be Uganda's Year of aggressive tourism marketing. Unlike before, the Uganda Tourism Board (UTB) supported by the government of Uganda is investing extensively in tourism marketing. Since the start of the year, different groups of marketers, bloggers, and travel operators have visited Uganda to see for themselves why Uganda was dubbed the Pearl of Africa. Following the visit by over 230 Israelite travelers and 10 Malaysia tour operators, Uganda tourism board has again hosted a team of Bollywood stars and members of travel agents federation of India (TAFI) for 8 days Uganda safari. After exploring what Uganda offers, the Bollywood will promote Uganda's tourism products in India through filming and photography. The Bollywood stars were welcomed by Hon Kiwanda, the minister of tourism in Uganda and later met president Museveni who urged them to encourage more Indian travelers to come and enjoy Uganda's beautiful culture, wildlife, and conducive weather.
In their meeting, the movie director, actor, and writer of the Bollywood Mr.Bharat Dabholkar assured president Museveni that the Bollywood want to market Uganda's tourism products in India. The movie director further promised that the Bollywood want to use Uganda as a premier location for filming Bollywood movies in which Ugandans would also take part. In the near future, Bollywood will bring film travelers to Uganda promoting film tourism to complement other tourism products in the Pearl of Africa. The coming of the Bollywood to Uganda is a big deal for tourism and local people who will get jobs earning them income. Dabholkar together with Uganda's top film will feature Uganda's beautiful sceneries, wildlife and people in all Bollywood videos making Uganda known to the whole world. Dahbolkar, however, urged the Uganda government to provide subsidies like accommodation and the necessary equipment for quality food production. The strong relationships between Uganda and India that have resulted in the visiting of Bollywood and TAFI to Uganda is a result of Uganda's prime minister's visit to India in 2017.
Who are the Bollywood?
Based in Mumbai Maharashtra India, Bollywood is a Hindi cinema and one of the world's largest film production centers. Bollywood derives their name (Bollywood) from Bombay the former Mumbai and Hollywood in California and is part of the cinema of India. Bollywood started acting in 1970 when Hindi cinema was facing stagnation and its there that the Bollywood took over releasing their first movie called Zanjeer in 1973 and Deewaar in 1975 achieving progress up to present. Dabholkar, the leader of the Bollywood is a renowned marketing prodigy who has won 14 advertising awards in 17 Bollywood movies that are among others. Through these movies, Uganda will be made known to all people all over the world and all it offers. Other stars in the Bollywood include Shobanadri, Shobhu, Bharata Shah the chairman of TAFI and Sumaji Natarajan of travel masters and one of the member agencies of TAFI.
Places to visit?
The 8 Days Uganda safari will take film stars to Uganda's top four national parks in the north east, north west, west and southwestern regions of the country. The first park on the itinerary is kidepo valley national park for game viewing and cultural counters with the kalimajongo and IK people. Other national parks to visit include Murchison falls national park; Uganda's largest and oldest national park, Queen Elizabeth national park and Bwindi forest national park to see mountain gorillas. The four parks are Uganda's top destinations with high concentration of wildlife, rich history and diverse tourism activities. Uganda is a home to over 50% of the word mountain gorillas residing in Bwindi forest and Mgahinga gorilla national park. This make Uganda a first stop for gorilla trekking safaris in east and central Africa. Also, Uganda's gorilla permit costs $600, which is relatively cheap compared to $1500 in Rwanda. Uganda is therefore the best place to see mountain gorillas rewarding you with memorable gorilla tour experience with no difficulty. The film stars aim at identifying particular tourism products in Uganda which they can concentrate on and promote in India and beyond. These products must be exceptional and hardly found somewhere else in the world.
Also, the country is home to a variety of birds some of which are not found else where in the world. Birds in Uganda include the rare shoebill, Green-breasted pitta, African green broadbill, short-tailed warbler, Great Blue Turaco, Shelley's Crimson wing, Standard-winged nightjar, yellow-billed stork, African kingfisher and pelicans among others. The leading birding sports in Uganda include Mabamba Bay wetland at lake Victoria, Bwindi forest, Murchison falls, Queen Elizabeth, Semuliki, Kibale forest and Rwenzori mountains national park among others.
The visit of Bollywood is a great achievement for Uganda Tourism Board and Uganda tourism industry as a whole. The visit is hoped to inspire an increased number of Indian travelers to come and explore the pearl of Africa.