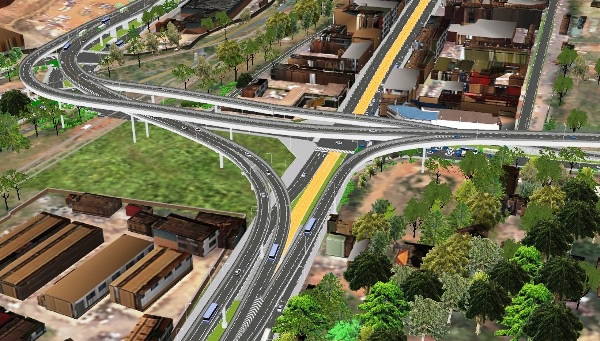 The Uganda National Roads Authority (UNRA) has finalized plans to construct the City Flyover after awarding three road contracts worth Shs626b.
The project will see the construction of a flyover at Clock Tower on Kampala-Entebbe Road, tarmacking of roads that include Nyendo-Bukakata and Rukungiri-Kihihi-Ishasha in Western region.
According to the executive director of UNRA Ms. Allen Kagina, the contractors of the Flyover at Clock Tower, the Japan International Cooperation Agency (Jica) will take three months for mobilization before the actual construction can start in January next year. The project to construct the City Flyover is estimated to cost Shs224b.
The project involves constructing a half Kilometer long Flyover, widening the road from Shoprite at Queen's way for half a Kilometer. Improvements will be done on Nsambya road, Mukwano road and part of Ggaba road. The contractors are also ready to fund the construction of the Flyover at Kitgum House on Jinja Road and its tendering will be done immediately after the designs are out next year.
The contract to construct the Rukungiri-Kihihi-Ishasha road also dubbed Tourism road (78.5km) since it links to the rich tourism region of Bwindi well known for Bwindi gorilla safaris, was awarded to M/S China Henan International Corporation Group Company Ltd for Shs207bn. This project is funded by the African Development Bank and it is expected to be completed in three years.
M/S The Arab Contractors won the contract to construct the Masaka-Bukakata 41km road at Shs195b and the project is funded by the Arab Bank for Economic Development in Africa and OPEC Fund for International Development.
The construction of the city flyover at Clock Tower and Kitgum House in Kampala will bring great relief to the people who work and travel through Kampala especially those that use Entebbe and Jinja Roads. There has been a lot of congestion along these two roads due to the heavy traffic that has been holding people for almost an hour with vehicles, motorcycles, bicycles and the pedestrians all being affected in the mix.
The construction of the Rukungiri-Kihihi-Ishasha road also comes as good news to tourists and the tourism industry at large. Thousands of travellers visit this region every year to explore the attractions there including tracking the famous mountain gorillas in Bwindi Impenetrable Forest national park. The road will connect two districts of Kanungu and Rukungiri.