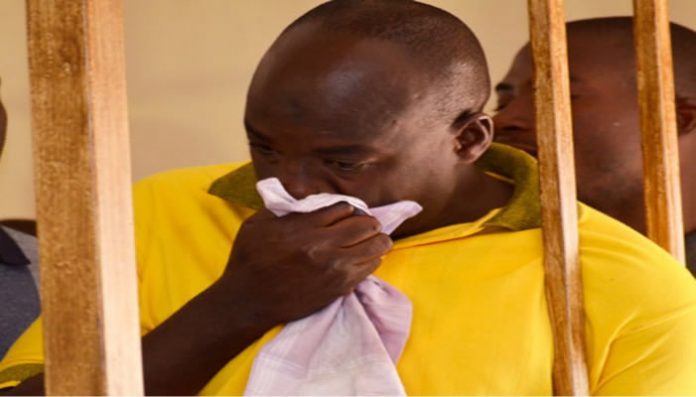 Former patron of Boda Boda 2010 Association Abdallah Kitatta has been sentenced to eight years and six months in jail after being convicted of possession of firearms and ammunition illegally.
The sentence was read on Tuesday by Lt Gen Andrew Gutti the chairman of the Court Martial. Lt Gen Gutti said that Kitatta is eligible to appeal the sentence.
Arrested on 20th January 2018, Kitatta had spent one year and four months in jail before he was sentenced on Tuesday.
Before his arrest, Kitatta worked as the chairperson of the ruling National Resistance Movement (NRM) for Lubaga. He was arrested at Vine Tea Hotel in Wakaliga, Rubaga division and he was charged and remanded at Makindye Military barracks.
Kitatta's arrest followed an attempt from a group of people to block the arrest of his young brother Huzairu Kiwalabye who was charged with the murder of former Case Hospital accountant Francis Ekalungar.
On Monday the Court Martial acquitted seven people who were remanded together with Kitatta before convicting him with his former bodyguard Ngobi Sowali of illegal possession of firearms and ammunition.
Ngobi who was a police detective was part of the other 10 people who were charged together with Kitatta.
As the chairman of NRM party in Lubaga division, Kitatta reportedly used his position to convince the then Inspector General of Police Gen Kale Kayihura to disband the Kampala Union Boda Boda Cyclists Association.
Kitatta claimed that the association was supporting hooligans who burnt Nateete police station during the Walk-to-work protests after the 2011 presidential elections.
After succeeding in disbanding the Kampala Union Boda Boda Cyclists Association, Kitatta went ahead to create his own Association which was named Boda Boda 2010 and he became its leader as a patron.
Kitatta's Association became radicle in nature by going head to head with the walk-to-work protesters that were mobilized by former presidential candidate Dr. Kiiza Besigye challenging president Museveni's victory in the 2011 presidential elections.