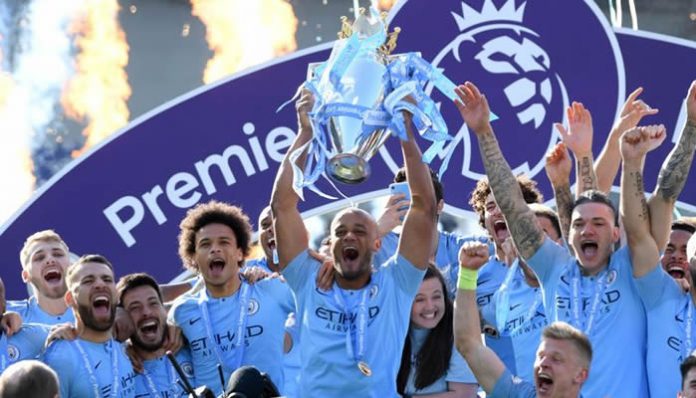 Manchester City yesterday pipped Liverpool to be crowned the 2018/2019 English Premier League champions following a hotly contested race between the two teams.
City beat Brighton 4-1 at Amex Stadium to seal the title which meant that Liverpool's 2-0 win over Wolves at Anfield was in vain. The hot campaign saw City seal the title with 98 points beating Liverpool by one point who finished with 97 points.
Pep Guardiola's men won the title for a second consecutive season after one of the most heated races in the history of the competition saw them go toe to toe with Liverpool throughout the campaign.
The heated race saw Manchester City win all their last 14 games in a row to be crowned champions, the second-longest in the history of the Premier League.
Liverpool's miss on Sunday means that the Merseyside club will have to wait for their first Premier League title that they have been hunting for since it was initiated in the 1992/93 season.
Manchester City's triumph on Sunday saw them clinching their fourth Premier League title, one more than Arsenal (3) and just one less than Chelsea (5) while Manchester United are the most successful club in the competetion with 13 titles. Leicester City and Blackburn Rovers have one Premier League title each.
Liverpool will be left disappointed for missing out on their much-needed Premier League title which was theirs to lose for a couple of months before they gave up a seven-point lead and allowed Manchester City to catch up with them.
Chelsea (72 points) and Tottenham (71 points) clinched the last two positions for champions league football after finishing third and fourth respectively.
Arsenal finished the campaign in the fifth position with 70 points and they were left regretting losing the last three games in a row before the final day which all but ended their chances of finishing in the top four. Three consecutive losses against Crystal Palace, Wolves and Leicester City saw Unai Emery's men surrender the third and fourth positions to Chelsea and Tottenham.
The gunners will be hoping for triumph in their Europa League final against their London rivals Chelsea as their last chance to secure champions league football next season, otherwise, a loss will see them condemned to Europa League once again for a third consecutive season.
The Europa League final that features the two English giants will be played on 29th May in Azerbaijan capital Baku.
Manchester United had a season to forget after finishing 6th with 66 points and this means that there will be no champions league football next season. United's dismal season will see new coach and former player Ole Gunnar Solsjaer head into a tough summer campaign to find players who can fill all the loopholes that have been exhibited by the club this season.
The other end of the table saw Huddersfield, Fulham and Cardiff City being relegated to Championship while making way for the newly promoted Norwich City, Sheffield United who will be joined by another club after the playoffs to join the Premier League.
Liverpool's success at continental level that saw them eliminate Spanish giants Barcelona dramatically last week to book their place in the final where they will face fellow English opponents Tottenham will act as a good consolation for their Premier League disappointment.
A win in the final on 1st June at the Wanda Metropolitano Stadium in Madrid will see Liverpool lift their 6th Champions League trophy while it will be the first for Tottenham if they beat their fellow English rivals.