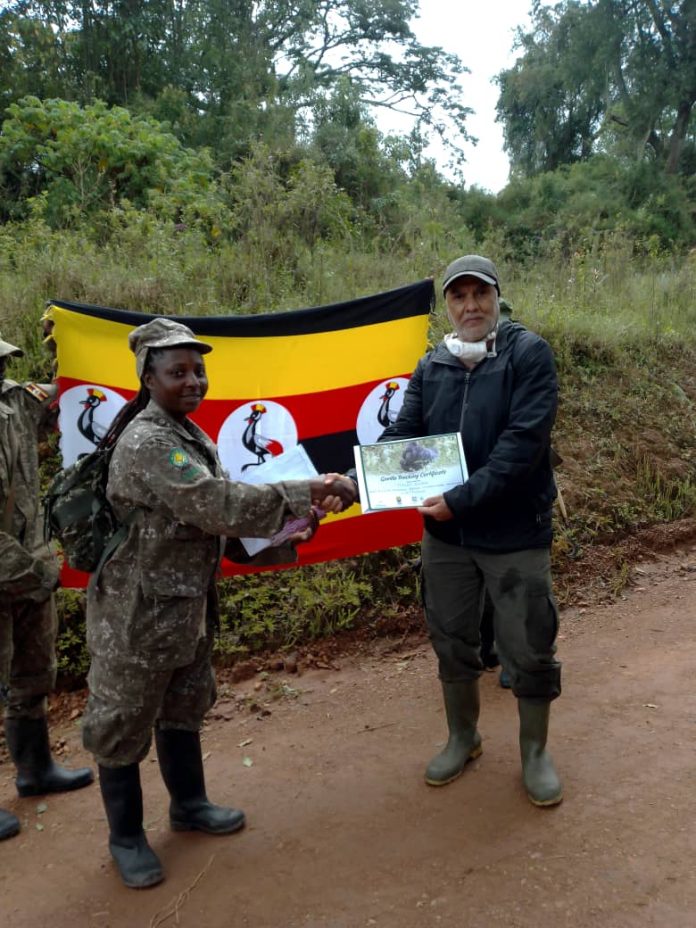 British tourist Malkit Rooprai 63, spent 6 months (between October 2022 and April 2023) driving through several countries to reach Uganda where he fulfilled his childhood dream of trekking the endangered mountain gorillas. Rooprai drove his Toyota Land Cruiser Invincible bearing a UK number plate through over 30 countries until he reached the Pearl of Africa in April. We caught up with him at Bwindi impenetrable national park where we had also gone to trek mountain gorillas and it was very exciting to enjoy the experience together with this adventurous traveller.

Journey from Europe
According to Rooprai, he used a ferry to cross to France, Portugal and then his African journey started from Morocco. He drove from the north to west to the south and then to the east. He drove through countries including Morocco, he drove through Mauritania, Senegal Gambia, Angola Ghana, Sierra Leone, Zambia Namibia South Africa, Democratic Republic of Congo, Rwanda,Tanzania Kenya, Uganda, among others. While in Tanzania, Rooprai said he took part in the Marathon organised by the country's president Samia Suluhu Hassan. He says that his long drive was generally okay he didn't have problems with police and security agents wherever he passed. One challenged he encountered was driving on the right in countries like Rwanda and Democratic Republic of Congo given that he was driving a right-hand vehicle.
Rooprai says he was driven by his love for adventure and wanted to try out something new other travellers have not attempted yet. "I wanted to discover what others have not tried; It is sort of an adventure."
Love for Uganda
Rooprai says he had visited Uganda before as a child recalling that he and his family was invited to the East African country to attend a family member's wedding. The wedding took place at Kakira Sugar Works a place he ensured to visit on his return. "I have read books and heard much about the history of Kakira. So, when I saw the billboard and the sugarcane plantations, I remembered the photo taken when I visited the factory as a child." "I was so happy that when I toured the factory, I discovered that some of the products in UK markets are from the factory," he added.
Asked how he managed to drive such a long journey from Europe, Rooprai said "I drove 350km daily and if the night got me on the road where there is no community settlement, I'd park the car near a roadside café."  He added: "Africa has developed and is rich in resources, beautiful scenery and welcoming people unlike the West."
Trekking mountain gorillas with Rooprai in Bwindi

We met Roopari at Bwindi impenetrable national park and right away we became friends. He is a very happy man, friendly and loves interacting and sharing his experiences freely. We entered the forest with him in our group to trek the endangered mountain gorillas, an experience he couldn't wait to taste. As expected at his age, he was physically challenged by the steep and rugged nature of the montane rainforest of Bwindi though all this added to his adventure. When we finally reached our assigned gorilla group for trekking, Rooprai couldn't believe his eyes. He was thrilled and amazed by the gorillas, the gentle giants as they roamed, ate, played and rested in their natural habitat. He spent most of his time before gorillas taking their photos and videos while sparing some minutes just look and watch them. At the end of the magical permitted before the gorillas, Rooprai Confessed that you can never get enough of the gorillas even after spending a full hour in their presence. In addition to Bwindi, other places in Uganda he visited include Jinja city, Sipi Falls, Kakira Sugar Limited, among others.
Rooprai gets rewarded for gorilla trekking

Rooprai was a very excited man after being told that we were going to receive a gorilla tracking certificate after completing the exercise. Certificates are awarded to all trekkers who finish the exercise successfully to congratulate them and to give them future memories about this breathtaking encounter.