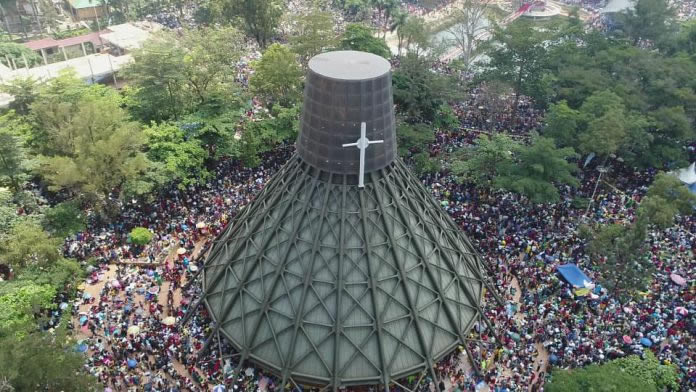 The Uganda Martyrs day was first celebrated on 3rd June in 1975. It has since become one of the major public holidays in Uganda. The annual celebrations take place at the Basilica of the Uganda Martyrs shrine located at Namugongo hill in Kampala capital city.
Every year, millions of people travel to Namugongo for pilgrimage with a crowd of 4,000,000 pilgrims reported in 2019. In addition to Ugandans other pilgrims come from neighbouring countries like Rwanda, Burundi, Tanzania, Kenya, South Sudan, and DR Congo. Others travel overseas from other continents like Europe, Asia, North and South America. These Christian devotees come to pay tribute to the martyrs who sacrificed their lives for faith in Christ as well as renewing their own faith in God.
Movement of pilgrims to Namugongo
Depending on location, they start their pilgrimage as early as possible to reach the Namugongo on time. For instance, over 200 Catholics left St. Mary's Rushoroza Cathedral on May 22, 2023 in Kabale Municipality, south-west Uganda. With vigour and passion, they will travel over 408 km across 5 districts on foot to Kampala in the central region.
More pilgrims are expected to turn from various parts of the country and from abroad. As such, thorough preparations are set up to ensure a seamless holiday including maximum hygiene, safety, and security. Emphasis is highly put on the form of entertainment, which must keep up with the mood for believers. "Lord is our faith" is the theme for Uganda martyrs' day 2023. The word of God is taken from the Gospel of Luke 17:5. The songs of praise will be sung in English and several local languages including Swahili, Iteso, Lugbara (West Nile). This is meant to cater for the diversity of people in all the regions of Uganda.

History
The history of Uganda martyrs goes far beyond the time they were killed between 1885 – 1887 on the orders of Kabaka Mwanga II who was the king of Buganda kingdom. France sent two catholic missionaries to Uganda in 1879. Father Simeon Lourdel Mapera and Br. Amans Delmas arrived at Entebbe and began to spread the religion.
Under the instruction of the White Brothers Society, "By winning over the chief, you will do more for the progress of the mission than if you won over one-by-one hundreds of poor blacks" As written in the book "The Catholic Church in the Buddu Province of Buganda, 1879-1925 by Fr. John Mary Waligo." The British Anglican Church and the Islam were already present in parts of Equatorial Africa.
However, the French won Kabaka's heart who then accepted and there are 24 Uganda Martyrs of which 13 were burnt alive at Namugongo and 9 in other parts of the country. The martyrs trail offers opportunities to explore the sites including St. Balikudembe burial ground in Owino Market downtown Kampala capital city, Munyonyo Martyrs shrine in Entebbe, Rubaga Cathedral, and Paimol shrine in Gulu city northern region.

The French missionaries learn and translate Luganda into manual scripts (catechetics) borrowing words from Latin, Arabic, and Swahili. Eventually, they taught and created martyrs how to read and write the catechist manuals. Then it became easier to convert as many people as people. They also initiated baptism with the instruction for converts to deny his traditional beliefs or die in faith, which upset the Kabaka.
Besides, Mwanga remained undecided amidst the competing religions (Catholicism, Anglican, and Islam), of which all were against his own. Local chiefs who had converted into saints were also not willing to give up their new religious beliefs, which sparked conflict within the kingdom of Buganda. Besides, the White Fathers had also initiated other missions like growing vegetables and cash crops, medical and orphanage schools.
Kabaka Mwanga then ordered his people to kill those who opposed him starting with Joseph Mukasa Balikudembe, who was beheaded on November, 15, 1885. The martyrs were killed because of the catechism philosophy that taught them not to denounce their faith even if it meant dying. In other words, they died for their faith in Christ and His body, which is the church. Fathers of the Catholic Church instigated a tribunal to have them declared martyrs of purity. The names of 22 martyrs were recorded for beautification by Pope Benedict XV on 6 June 1920. They were canonized on 3rd June in 1964 at St. Peter's Basilica in Rome by Pope Paul VI, who visited Namugongo in 1969.
The Uganda Martyrs Shrine at Namugongo

The Basilica of the Martyrs was built in 1968 with a capacity of 1,000 people. Standing on 26 hectares of land, Uganda martyrs shrine at Namugongo has spacious gardens, a lake with enclosing pavilions, and an amphitheatre for people to see what happens inside at the altars. Romu hotel, which is next to the shrine offers accommodation and space at for retreats, crusades, and weddings. Namugongo is 12 km from the city centre, making it easy to include in your Kampala city tour available for booking through tour operator. You will explore the history and look at the visual pictures and sculptures in the martyr's museum.