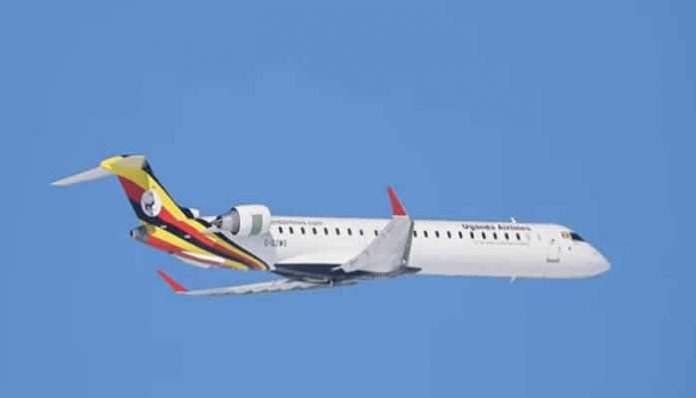 Uganda Airlines has announced that they have already acquired seven planned regional routes two weeks after the acquisition of two new Bombardier planes by the carrier.
The seven new regional routes include Nairobi and Mombasa in Kenya, Dar es Salaam in Tanzania, Bujumbura in Burundi, Khartoum in Sudan, Juba in South Sudan, and Mogadishu in Somalia.
Further routes like Johannesburg (South Africa) will start at a later time as announced by the Airline.
According to Uganda Airlines, the first flights are expected to kick off by at least July and the business is expected to be profitable with estimations of between 1.6 million to 2 million passengers per year.
Background
Two weeks back Uganda received two Bombardier planes from Canada as part of the six aircrafts the government ordered for last year in July. The acquisition of the new planes is an effort by the government of Uganda to revive Uganda Airlines, a national carrier that had collapsed in 2001.
The revival of the Uganda Airlines will allow the national carrier to share in the region's aviation business that has been largely dominated by Kenya Airways, Ethiopian Airlines, and RwandAir.
History
Uganda Airlines was founded by former President Idi Amin in 1976 and was in operation until 2001 when it was liquidated by President Museveni as part of his plan to privatize the economy by privatizing troubled state enterprises.

Need for revival?
Earlier last year, the government started pursuing plans to revive the airline after noticing the growth in the region's aviation business.
The government paid up to Ushs280 billion ($74.8 million) for the two planes acquired so far through a supplementary budget that was approved by parliament shortly before the final purchase.
Uganda Airlines is also planning to launch direct long-haul routes to destinations like China and other Asian countries in a bid to attract more tourists from there.
President Museveni said that the national carrier would help Uganda retain the $400 million spent by Ugandans on international travel each year.
"By starting an airline we are going to reduce on the foreign exchange expenditure. Ugandans will be spending money but spending it on our airline," said the president.
There have been complaints from Ugandan travelers about high ticket costs attributed to the limited competition in the aviation market dominated majorly by Kenya Airways and Ethiopian Airlines.