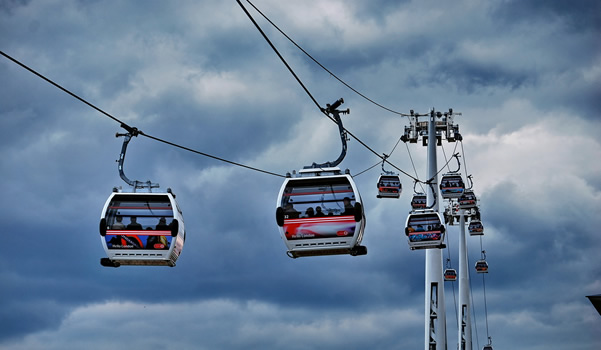 Hiking to the top of mount Rwenzori is one of the adventurous activities you should not miss on your Uganda safari, one of the key features after which Uganda is named the pearl of Africa. Also, known as mountains of the moon, Mount Rwenzori is situated in kasese district in the borders of Uganda and the Democratic Republic of Congo. Mount Rwenzori stands at 4500m above sea level and is the second highest peak in Africa after Mount Kilimanjaro in Tanzania. The high altitude has been a great challenge for travelers taking 5-6 full days to reach margarita the highest peak of Mount Rwenzori at 5,119m above sea level making it quite hard to enjoy uganda safaris as a complete package. To ease the hiking up to t mountain summit therefore, the government is to start using of cable cars, which shorten the hiking time as well as saving energy for the clients.
The plans to install cable cars for climbers to mount Rwenzori was revealed by the minister to tourism in the 8th annual tourism sector review conference that was held recently at Serena hotel Kampala. While in the conference, the prime minister of Uganda Ruhakana Rugunda assured attendees that the government was done with feasibility study for the project of cable cars and only waiting to report from the consultants on how to progress wit the installation of the cable cars. Once consultations are done, the government will discuss with relevant stakeholders after which contractors will be procured to install the cable cars.
The introduction of cable cars is also a strategy for boosting tourism in Mount Rwenzori national park and Uganda as a whole. Mount Rwenzori comprise of six main peaks, which go beyond 4500 meters above sea level. Some peaks such as Mt Stanley, Mt Speke, Mt baker, Mt Gessi are on the other side of the Democratic Republic of Congo while Mt Luigi di Savoia and Mt Emin Pasha are fully in Uganda. Not only do travelers enjoy the beautiful sceneries but also permanent snow and glaciers at the summit of Mount Rwenzori.
Cables cars were first introduced in Kenya to ease the hiking of Mount Kenya by the government bodies and responsible tourism bodies. Since their introduction, may people have been seen taking part in hiking mount Kenya, which has promoted tourism industry in Kenya. The government of Kenya was the first to intrude cable cars to ease the hiking of Mount Keya and many people have been witnessed climbing and enjoying the hiking experience.
Many adventurous travelers have taken part in hiking t the summit of Mount Rwenzori despite it being strenuous. Similarly most people hike mount Rwenzori to appreciate and cherish the beauty that nature offers. Travelers are rewarded with spectacular views of the mountain rangers as well as wildlife in Rwenzori national park in the slopes of the mountain.
Besides cable cars for Mountain climbing, the government also realized a need to develop a master plan for the source of the Nile. It was discovered that despite it being known worldwide as a major attraction every one should visit on a Uganda safari, the source of the Nile has not attracted as many travelers as expected. This therefore calls for a master plan so as to attract private sectors to invest in infrastructures such as hotels, lodges and road construction.
In terms of tourism progress, Uganda's tourism sector has achieved steady progress in the past year. There has been an increase in the number of tourist arrivals to Uganda in the financial year 3016/2017 and these travelers are interested in exploring and visiting different tourism spots in all parts of the country. Tourism is Uganda's leading foreign exchange earner, which bring in roughly US$1.37 billion (UGX6.17 trillion) to the country's gross domestic product (GDP). The progress and success of tourism in Uganda is attributed to peace and security, which has been achieved with the leadership of president Museveni.
Interestingly, tourism is the major source of jobs, which employ 6% of Uganda's labor force directly and indirectly. Many people have been hired as guides, porters, park wardens, housekeepers. Waiters, waitresses and hotel managers, which has improved their standards of living. In order to maintain tourism success, the government has put new strategies to drive Uganda to middle income status by 2040.
Conclusively, book you mount climbing safari to Rwenzori Mountains and use a cable car for easy hiking hence a memorable experience.