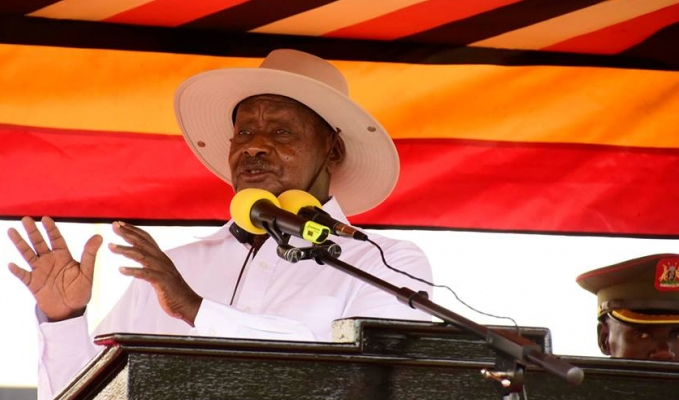 Uganda Celebrates 56 Years of Independence
On 9th October 2018, all roads were headed to Lukoama playground, in Kasasa Sub County in Kakuuto County in district to celebrate Uganda's 56th year of independence with a theme of "standing tall as we celebrate achievement of our 56 years of independence". There was a lot of jubilation on all streets of Kyotera as locals and Uganda at large celebrated the country's big day in this newly established district (Kyotera district). Hundreds of people from near and far regions flocked Kasasa ground to be part of this event. Among these were prominent Uganda ambassadors, ministers, religious peoples, councilors and members of parliament who could not miss this colorful event. Also, fleets of yellow buses were seen on streets of Kyotera picking locals and taking them to the ground free of charge. The free buses started as early as 7:00am and many people were seen lining on the streets waiting for the free pick up to Kasasa ground.
Security was so tight as police deployed in all corners of kyotera to ensure peace and safety of all people together with their properties. We recognize the efforts of the Uganda police since no chaos was seen. Security encouraged normal operations such as of daily businesses in Kyotera. People were seen operating their small business by the roadside and in Kasasa town council without any disturbance. Great thanks to Uganda police for their tireless efforts.
Uganda's first independence was celebrated on 9th October 1962 when Milton Obote the first prime minister of Uganda announced the freedom of Uganda which brought hope for political stability, economic development and improved social and civil services in the pearl of Africa. The ceremony was celebrated at Kololo ceremonial grounds. As always, this year's celebrations were preceded with a night of prayer by the house of prayer ministries in Nambole stadium. Believers thanked God for the great things he has done and also praying for peace and security in the pearl of Africa. President Museveni who has been Uganda's president for the last 33 years was the chief guest of the celebration.
How the celebration activities scheduled?
The celebration started as early as 8:00am when people mostly the entertainers and local people started arriving one by one. The master of ceremony was ready by 8:00am to announce the arrival of each and every guest while giving updates on how the whole celebration was going to be.
Recognition of Kyotera's developments
At 9:02am, there was a brief discussion on how far Kyotera district has come and the developments this new district has achieved in the shortest time possible.
Its now one year when kyotera was declared a district from being part of Rakai district. The steady development kyotera district has achieved since its launching were worth celebrating. The capacity of the district to host the 56th independence anniversary celebration is enough to prove how Kyotera has developed compared to other new districts in Uganda. Among the developments Kyotera has attained include tarmacked roads which support various home businesses such as food vending, retail and wholesale shops plus electronics and solar shops, stationery shops, internet cafes, hardware shops, photo studio, woodwork stations, and schools banks, microfinance institutions, clinics, pharmacies, kiosks, mobile money shops and maize and coffee mills among others businesses have been established in the district. Also luxury hotels such as Serona hotel, Nabisere hotel and Motel highway hotel among others have been established in Kyotera to provide food and sleeping services to visitors. On the other hand, issues, such as having the rate of HIV/AIDS victims, cannibalism, trafficking, prostitution, gruesome murders among others which still disrupt steady development in Kyotera were raised and people were called upon to avoid them. Also, all the hidden treasure in kyotera district were disclosed for tourism. These include Musambwa Island found on lake victoria, which is a breeding place for grey-headed gulls and nonpoisonous snakes, pythons and egrets among others. A Uganda tour to Musambwa island complement other activities especially gorilla safaris to Bwindi and game viewing in the savannah parks of Uganda among others.
General cleanliness
At 10:41am, there was general cleaning of Kyotera town. Here people voluntarily cleaned all the streets in kyotera town before visitors arrived. School going children were mobilized to sweep, clean trenches, slash the road ways and collect burnt garbage's to make the whole place clean and descent. The togetherness in cleaning portrayed the spirit of togetherness of Kyotera people for the development of their area. In the process, many people were coming in and the house was full already. Performances were underway and guest was being treated to a cocktail of stage performances with vibrant dances until 12:15pm.
Arrival of the speakers and the Prime Minister
At 12:30pm, the speaker of Uganda Rebecca Kadaga and Prime Minister Dr Ruhakana Rugunda arrived at the ground. It was a warm afternoon as the congregation welcomed these two people with loud traditional performances.
Arrival of the president
A few minutes later, H.E Yoweri Kaguta Museveni the president of Uganda and the chief guest arrived. Museveni showed up in a white shirt but without a hat as he normally does which surprised many people. "Museveni has for the first time left his hat," says a resident. From there, the president was led to the raised platform and the national anthem was sung followed by a pleasant police band at 1:34pm. It was indeed a colorful; moment as the president patrolled all the guards, which ended at exactly 2:00pm with the singing of the Uganda and east African anthems.
Prayers
After the president had his seat, the next session was for prayers. The prayer session was led by Bishop John Baptist Kaggwa of Masaka diocese and sheik Swaibu Kaweesi who represented Sheikh Shaban Mubajje the Mufti of Uganda. In their prayers, the prayer worriers thanked God for placing Uganda in the beautiful corner of Africa as well as the spirit of patriotism in the country. In their conclusions, the leaders prayed for more blessings upon Uganda and God's protection from any harm and external attacks. The prayers were followed by march performed by Uganda's People's Defense Force and prisons between 2:16pm to 2:26pm. Several organizations, universities and schools participated in the march.
Speeches
There after was time for speeches, which started at 3:30pm. Several ministers and Member of Parliament were welcomed and recognized by Esther Mbulakubuza Mbayo the minister of the presidency who thanked everyone for coming. The minister also recognized the presence of members of the central executive committee; ministers and members of parliament, local council chairpersons and the women's council committee were recognized and thanked for coming. At 3:38pm, the minister then welcomes his excellence the president to deliver his speech. Museveni first apologized for coming late and informed people that he delayed somewhere doing some good work for the country. The president raised issues such as terrorism in the country. He assured Ugandans that CCTV cameras have been installed already and many others are yet to be put which will reduce the rate of terrorism in the country especially in urban areas.
Also, the president, called upon leaders to wake up and encourage people to work hard and fight poverty. Also, Museveni emphasized leaders to support agriculture, use irrigation and use fertilizers were possible. Many other things like the wide spared of HIV/AIDS in the country, the president talked about lack of awareness as well.
Awarding of Medals
At 4:43pm, the president gave out medals to different people, which ended at 5:10pm. Altogether 86 medals were awarded to people who have played a very significant role in the liberation of Uganda since the time of colonial rule to present. 11 people Prof Augustus Nuwagaba a lecturer at Makerere University, Nimisha Madhvani Uganda's ambassador to United Arab Emirates and prof, Sam Tulyamuhaki were awarded with golden jubilee medals for their tireless efforts in the struggles to liberate Uganda.
The celebration was closed with performances and the Independence Day was declares over. Thanks to those who attended and all the best to the rest of Ugandans in this 56th year of freedom and self rule.