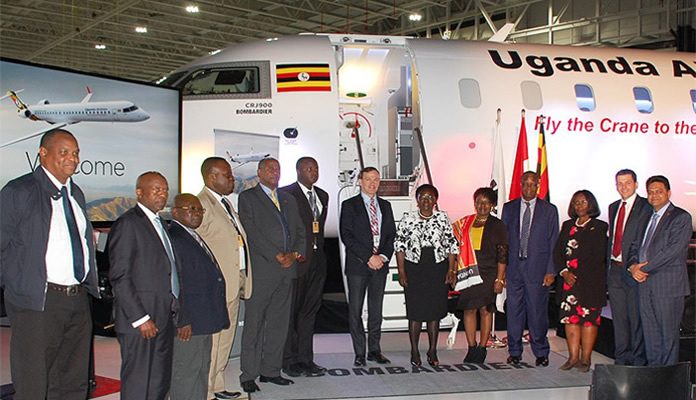 Uganda has spent nearly two decades without a national flag carrier but the handover ceremony on Tuesday in which Uganda received a pair of CRJ900 Bombardier aircraft is a confirmation that the Pearl of Africa has now put an end to that embarrassing trend.
The new planes are expected to land at Entebbe International Airport for the first time on Tuesday next week, opening a new chapter in the country's aviation industry. The handover ceremony took place at Bombardier's Mirabel, Quebec facility on Tuesday.
Transport Minister Eng. Monica Azuba Ntege said that to get here past mistakes had to be avoided. "There was a careful evaluation of several elements such as the aircraft fleet mix", she said during the handover ceremony.
The ceremony was attended by officials from Uganda Airlines and Bombardier Commercial Aircraft together with the company workers who build the CRJ900 aircraft.
Last month the Parliament of Uganda approved the request by the government for a supplementary budget of Shs280 billion to buy the new planes.
The Uganda government through the Uganda National Airline Company ordered for four planes in July last year and the two aircraft, part of the package are regional jets that were designed for "excellent cost efficiency and network flexibility", according to the Bombardier president Fred Cromer.
While speaking during the colorful handover ceremony, Mr. Cramer said, "Since its launch, the CRJ series family of regional jets has led to the development of regional markets around the world. The CRJ has revolutionized aviation with proven efficiency, reliability and profitability. Our latest enhancement is the new Atmosphere cabin, which sets new standards for customer comfort and experience in the regional jet market".
The new aircraft have got two-class configuration, that is Business Class and Economy Class with a seating capacity of 12 and 64 people respectively. The two planes have already been registered with the Civil Aviation Authority with registration numbers 5Xkob and 5Xequ
The Ugandan team led by Transport Minister Ms. Azuba were received in Quebec by Uganda's high commissioner to Canada Joy Ruth Acheng.
The CEO of Uganda Airlines Ephraim Bagenda and the Permanent Secretary of Works and Transport Waiswa Bageya were also part of the delegation that traveled to North America with a special task of checking the conformity of the aircraft according to the contractual specifications.
In part of his remarks, the Bombardier president said, "deeply appreciative that the Ugandan government chose our aircraft for the revival of its national flag carrier". He assured Uganda that the CRJ900 will "contribute to Uganda Airline's growth and success".