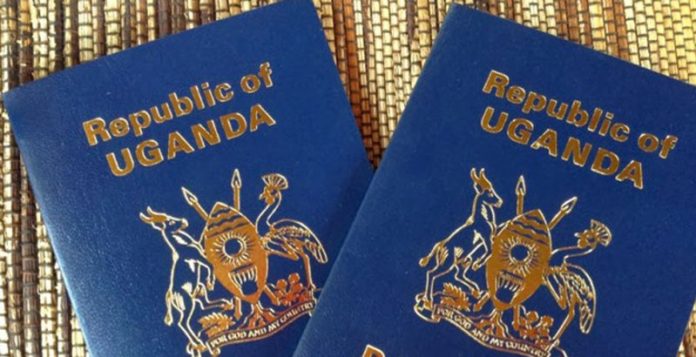 Uganda is regarded as one of the richest tourist destinations in the world. The presence of abundant tourist attractions in Uganda keeps travelers pouring into this beautiful nation famously known as the Pearl of Africa. Most of Uganda's attractions come from wildlife and they include tracking gorillas in Bwindi , game drive safaris in more than 10 national parks around the country, bird watching safaris, chimpanzee tracking, mountain hiking, white-water rafting at the source of the Nile, the world's longest River, boat cruises on various lakes including Lake Victoria, the second largest freshwater lake in the world. Other exciting tour activities in Uganda include cultural and historical tours, among others.
Being such a great tourist destination, this Uganda travel information will travelers who would like to visit Uganda soon or in the future in order to discover the country's must-see attractions that make Uganda rank high in the tourism world.
Visas
A visa is a requirement for every foreign national who wants to enter Uganda. Since 2016, Uganda made it mandatory for all visitors to apply for an online e-visa before traveling. The current system also allows visitors to buy visas upon arrival at the Entebbe International Airport or at any Ugandan border for those who may enter the country overland.
What you should know about Ugandan visa
You can enter Uganda using either a standard single-entry visa or the East African Tourist Visa. A 90-day visa for both categories costs US$50 and US$100 respectively. However, procedures of obtaining visa keep changing and therefore travelers to Uganda should always check with their travel agents and Ugandan embassies before they travel.
It is also a common practice in Uganda to stamp visitors' passports for a period of one month or less even though it may be a three-month visa. This is basically done for security and safety reasons and travelers should not be scared as they can always have their visa time extended at any immigration office in Kampala or upcountry. There are no charges involved for these services although travelers may be asked for an official letter from a sponsor or from the hotel/lodge of your accommodation. Travelers are highly discouraged from overstaying their visa time as this will attract a surcharge of US$30 per day exceeded.
Other entry requirements
Today it is a requirement for every traveler entering Uganda to present an international health certificate, which shows that the entrant had a vaccination while entering Uganda or they may upload it while applying for a visa online.
Transportation to Uganda
By air
Uganda being a landlocked country, the most obvious means of reaching from distant locations like Europe and North America is by air. The most convenient and cheaper route to reach Uganda from Europe or North America is that via Nairobi, Kenya. From Nairobi, you can choose to enter Uganda either by air or overland. Several airline companies like Air Uganda and Kenya Airways conduct flights between Entebbe and other regional cities including Nairobi, Dar es Salaam, Zanzibar, Juba, and Kigali. Travelers from Europe can find cheap tickets to Africa in London where there are some travel agents that have specialized in flights to Africa like Africa Travel, Trail finders, and STA. These are respected travel agents who are well known for cheap flights worldwide.
Overland
Overland, travelers can enter Uganda through one of her five borders with her neighbors, Kenya (East), Tanzania (South), Rwanda (Southwest), Democratic Republic of Congo (West) and South Sudan (North). Majority of Uganda's visitors enter and leave the country through her borders with Kenya and Tanzania. However, the number of visitors entering and leaving Uganda via the Rwandan border has also steadily increased due to the attractive mountain gorilla safaris taking place in both countries near their border in Bwindi Impenetrable national park (Uganda) and Volcanoes national park (Rwanda). Crossing Uganda's overland borders is strictly for travelers with proper documents. It is also advisable to exchange money at the border into or out of Uganda to allow you carry out any transactions that you may need while inside the country.
Transportation within Uganda
By air
Most of the hot spot destinations for Uganda visitors are less than six hours of driving from the capital Kampala. Few visitors consider traveling within Uganda by air. Kidepo Valley national park in the northeast is the only destination usually reached by air more often than by road due to its remoteness. For air travel enthusiasts, Fly Uganda, Aerolink, and Eagle Air are the three operators currently offering scheduled and chartered flights to various tourist destinations within Uganda. Each operator has a minimum number of passengers for scheduled flights and the flights are subject to diversions to other destinations.
Self-drive
Though not commonly used by travellers in Uganda, self-driving also gives such a good experience in Uganda given that the country's major roads are generally in good condition by East African standards. There are decent highways that run from Kampala to all the major towns around the country. The unsurfaced roads tend to be dusty and muddy during the dry and rainy seasons respectively.
Travellers on self-drive in Uganda should always be mindful of reckless driving especially from minibus-taxi drivers who don't even fear to overtake on blind corners. The allowed maximum driving speed in Uganda is 80km/h in the open roads and self-drivers should always be comfortable to slow down where need be.
It is a great idea for those who want to rent a self-drive vehicle to first check it over carefully and to do a test drive before taking to the actual trip. You will be able to find out whether the vehicle has got any mechanical issues after a few meters of test drive even if you may not be so knowledgeable about the working of the engines. Get to know where the filling points for oil, petrol, and water are and ensure that all keys are functioning in their respective positions. In Uganda driving is done on the left-hand side of the road a system inherited from the British custom. The key documents required while driving on Ugandan roads include the vehicle registration book, vehicle certificate of insurance (third party) and a driving license.
Mountain biking in Uganda
Travellers who love mountain biking can also enjoy a memorable experience as the country is relatively flat and compact. There are no new-quality bikes in Uganda so it is better to carry one with you provided you get a flexible airline that allows carrying bicycles. If you prefer to buy one locally, there are some good imported secondhand bikes sold in Kampala at around US$80. Buses carry bikes on the roof at an extra cost.
Road and water transport
Road transport dominates Uganda's transport sector given the low activity of passenger rail and ferry services. There is a new passenger ferry between Entebbe and the Kalangala/Ssese Islands and some local boat services connecting to various fishing villages of Lakes Victoria, Kyoga, Edward, and Albert.
Buses
There are coaches taking passengers to all distant towns in the country and they are Uganda's safest form of public transport. Buses travel at an average speed of 100km/h and the charges range from as low as US$5 to US$10.
Minibus-taxis (Matatus)



Matatus are the most commonly used means of road transport in Uganda. They have no scheduled departure time but they live immediately they get full. On busier routes, a matatu can get full within 5-10 minutes. Charges tend to be slightly higher than those of bigger buses though they allow more flexibility. Matatus in Uganda are licensed to carry 14 passengers and its customary to pay shortly before arriving rather than on departure.
Boda-boda
These are motorcycles used for getting people around in Uganda. They are referred to as boda-bodas because they were used as a means of smuggling goods from border to border. They are commonly used for suburban transport and for accessing shorter destinations where public transport doesn't exist. Boda-boda fares are negotiable and most trips go for as low as half a US dollar.
Booking gorilla permits
Gorilla permits allow you to trek the endangered mountain gorillas in Uganda. Due to the popularity of this activity given that it is regarded as the best wildlife experience in the world, it creates such a huge demand for gorilla permits and they are always limited in availability. Remember that each gorilla group in Bwindi is tracked once a day by a group of 8 trackers and for just an hour due to conservation reasons.
Although today Bwindi has got about 15 gorilla groups that have been habituated for tracking, permits are still scarce on market. It is therefore highly advisable for travelers interested in trekking mountain gorillas in Uganda to book for permits in advance.
an advance booking of 3-6 months or even a year can allow your tour agent to arrange your permit with the local tourism authority in time so that you don't find any problem when your trekking date falls due.
Gorilla Permits can become completely unavailable in the peak seasons of June-September and December. This is because these are dry seasons when trekking can be done with less difficulty given the absence of muddy and slippery conditions in the jungle. Consequently, the majority of trackers go on to book permits for this period hence creating that scarcity.
Your tour agent will also arrange for your accommodation, transport and will always advise you accordingly regarding other necessities include applying for a visa, what to pack for your trip, the Dos and Don'ts regarding your trip to ensure that you have a successful wildlife encounter in Ugandan. Among the credible and experienced tour agents in Uganda that we can recommend arranging for you a successful trip include Gorilla Trek Africa and Africa Adventure Safaris Limited.
Apart from trekking mountain gorillas where you need to book the trekking permit in advance, other tour activities do not necessarily require advance bookings. Uganda has got many wildlife reserves including 10 national parks where a variety of tour activities take place at the same time. These include game drives, birding, chimpanzee tracking, nature walks, boat cruises, among others. This means that any number of visitors interested in these activities can be easily catered for without causing any commotion.