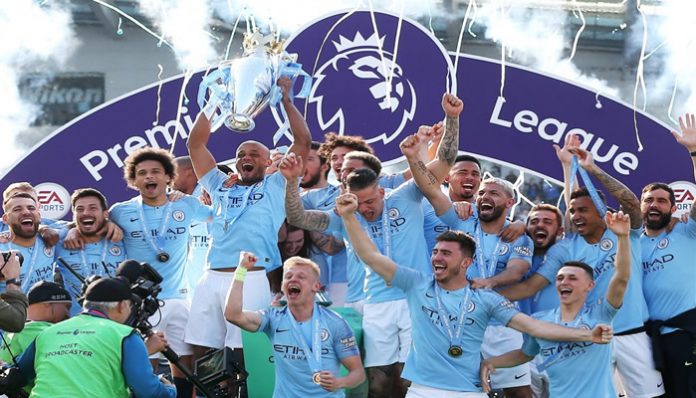 Liverpool and Norwich to kick off the new Premier League season
Football fans around the world especially those who follow the English Premier League will be excited to hear that the new season, 2019/2020 is finally starting today.
Liverpool and newly promoted Norwich City will play the first fixture of the new season tonight as Anfield and both clubs will be looking to register a strong start to the campaign.
What should fans look out for in the new season?
Introduction of the Video Assistant Referee (VAR)

The English Premier League is one of the last leagues among the five major European Leagues to embrace the new technology of VAR since its introduction 3 years ago.
The Football Association (FA) has finally accepted to introduce the technology in the 2019/20 Premier League season.
The VAR will be always come to into play whenever the referee deems it necessary to consult to make decisions in key moments of the game.
Among the key areas where the VAR will be consulted include deciding on goals, penalties, red cards and mistaken identity.
New additions, new strength

All the major sides in the English top flight with a huge following worldwide have strengthened their squads in this summer's transfer window with some pulling up some exciting signings to give their fans so much anxiety.
Both Manchester United and Arsenal have made incredible signings with United bringing in Harry Maguire from Leicester City at a world record fee for a defender (80 million pounds). United have also recruited young right-back Aaron-Wan-Bissaka and talented young winger Daniel James from Crystal Palace and Swansea respectively.
Arsenal have also broken their transfer record by signing highly rated winger Nicolas Pepe from Lille, France at 72 million pounds. The Gunners have also added David Luiz and Kieran Tierney to strengthen their defence while Dani Ceballos has joined on a season-long loan from Real Madrid as a temporary replacement of Aaron Ramsey and young Brazilian forward Gabriel Martinelli has also joined.
Defending Champions Manchester City have also strengthened their squad to stand as a team to beat by bringing in Spanish midfielder Rodri from Atletico Madrid and defender Joao Cancelo from Juventus.
European champions and last year's runners up Liverpool have not done much business this summer though their squad still looks strong and intact and they will be hoping to pick up from where they stopped last season to challenge for the tittle.
Chelsea have also not enjoyed this summer's transfer business given their transfer ban though they managed to sign Mateo Kovacic on a permanent deal from Real Madrid. They have also been boosted by the in-coming of talented American Forward Christian Pulisic from Borussia Dortmund whom they had signed in January. New manager Frank Lampard will hope that his squad remains competitive like last season to fight for some Silverware despite losing some key players like Eden Hazard and David Luiz.
Tottenham have also enjoyed one of their best transfer markets after the acquisition of some exciting talents in Tanguy Ndombele from Lyon, Giovani Lo Celso on loan from Real Betis and Ryan Sessegnon from Fulham.
Other clubs have also strengthened well in the transfer window with some like Everton, Leicester and Wolves hoping to break into top six this season.
Will Manchester City make it three in a row?

It is now 10 years since 2009 when Manchester United became the last side to win three Premier League titles consecutively between 2007 and 2009. However, this record may be broken by their rivals Manchester City who look determined to add a third title in a row. City are the winners of the previous two campaigns and if they get this one, then their dominance of the league will be justified.
Will this be Liverpool's season finally?

Last season Liverpool came so close to winning their first-ever Premier League title but they were unfortunate to lose it to Manchester City by just one point having registered a record of 97 points for runners up. If the Reds can reach that level this season, who knows, it may be just enough for to be crowned champions.
How will Frank Lampard fare in his debut season as Chelsea manager?
As the new season kicks off, all eyes will be set on Frank Lampard, Chelsea's new manager who came as a replacement of Maurizio Sarri. Lampard was very successful as a Chelsea player before he left the club in 2014 to join US club New York City, Manchester City and later start his managerial career at Derby County.
Lampard has come in at a very tricky time at Chelsea when the club is under a ban to sign new players for at least two transfer windows and he will need to use the available players in the best way possible if he is to register any success for the club in his debut season as manager.
Will Solskjaer manage to bring back Manchester United into the top four?

Another manager in the hotspot this season will Manchester United's Ole Gunnar Solskjaer who has a huge task ahead of him to bring back the Red Devils into the top four this season or even contest for the title.
United finished sixth last season 32 points behind winners Manchester City and 5 points behind Tottenham who finished fourth and Solskjaer will be hoping his team can bridge that gap this season to secure champions League football again.
Arsenal revolution?

This is going to be Arsenal's fourth consecutive season in Europa League and this means no champions league football. However, this bad history may be about the change following the Gunners ambitious transfer business this time.
The Gunners have made some promising deals in the transfer window and now their squad looks much stronger than the previous few seasons. The acquisition of talented players like Nicolas Pepe, Dani Ceballos, Kieran Tierney, David Luiz and Gabriel Martinelli is expected to lift the club to an advanced level.
A top-four finish will be the Gunners main target this season so that they can restore champions league football and if they can do better than that it will be their bonus.
Will the top six be shaken up this time?

Last season there was a big gap between the top six and those teams that occupied the following positions. Wolves were seventh but were 9 points behind Manchester United in the sixth.
Clubs like Everton, Wolves and Leicester City who tried to break into the top six last season will be striving to find that breakthrough this term given their ambitious transfer business. They recruited strongly and this sounds a warning to any top six-member who may slip up.
How will the relegation battle be?

Aston Villa, Norwich and Sheffield United are the three promoted side in this season's campaign and they will be expected to do their best to survive in the top flight.
Last season's survivors like Brighton, Southampton and Burnley might have learned a good lesson that they have to take all their chances in order to maintain their position otherwise any small mistake may see them being eclipsed.
However, as we start the new season, the relegation battle will be much open and it is just a matter of who will slip up and then they will see their door into the Championship next season.
Who will win the golden boot?

Last season was record-breaking in terms of the golden boot winner with three players sharing the prize having all netted 22 goals. The winners included Arsenal's Pierre Emerick Aubameyang and Liverpool duo Sadio Mane and Mohamad Salah.
Potential contenders included Manchester City's Sergio Aguero who missed out by just one goal, Harry Kane and Jamie Vardy.
This race is open again this time and who knows, may be one of the above may take it or we may end up seeing another surprise striker coming up to claim it. Let's watch this space.