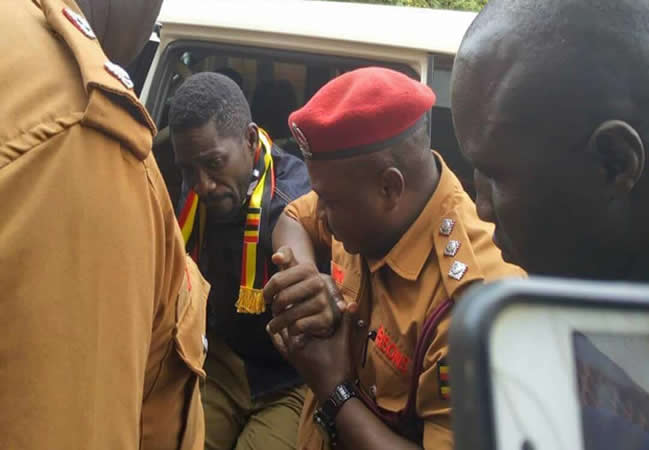 Kyadondo East legislator Robert Kyagulanyi commonly known as Bobi Wine has early this Thursday appeared before the court martial in Gulu where he was subsequently told that his charges with the military court had been dropped.
Lt General Andrew Gutti, the chairman for General Court Martial told Bobi Wine that his court no longer hold any charges against him unless he had charges elsewhere. Immediately after being cleared by the court martial, Bobi Wine was rearrested by the police and taken to appear before the Chief Magistrates court in Gulu town.
Upon reaching the magistrates court at Gulu, MP Kyagulanyi appeared before the Chief Magistrate who read to him charges of treason and he was subsequently remanded and told to reappear before the same court on 30th August together with other MPs who also face the same charges.
MP Robert Kyagulanyi has been detained at Makindye military barracks since his arrest on Monday last week and he had been summoned to appear before the court martial in Gulu for the second time to answer charges concerning illegal possession of firearms and ammunitions.
Bobi Wine had been arrested together with other MPs who were also charged with treason when they appeared before the Magistrates Court last week. Their arrest followed some chaotic incidents in Arua in which one of the cars in the President's convoy was stoned breaking its rear screen window. This happened on the last day of the campaigns for the Arua Municipality Parliamentary By-election in which both the president and Bobi wine had participated to campaign for their candidates.
Since his arrest, there have been numerous protests and riots around the country including in the capital Kampala, Mukono, Mityana, among others. Numerous civilians have been killed and others wounded while many have also been arrested and detained by the police. Among the victims of the incidents include late Yassin Kawuma a former driver of Bobi Wine who was shot dead in Arua from his boss's car during the chaos in which Bobi Wine was arrested.
Earlier on Wednesday, deputy speaker Jacob Oulanya visited Mr. Kyagulanyi at the Makindye Military Barracks. During his visit, a short clip was released and circulated widely on social media in which Kyagulanyi is seen laughing with the Deputy speaker but with apparent difficulty. Mr. Oulanya in his comments said that he had talked to Hon Kyagulanyi and added that he was in a lot of pain.
In addition to the protests demanding for the release of Bobi Wine, yesterday his fellow artists organized a mass to offer prayers for him and other detainees including those in poor health conditions like Mityana Municipality MP Francis Zaake who was also severely tortured and currently in a poor health condition while receiving treatment at Lubaga Hospital in Kampala. The Mass was held at Lubaga Catholic Church Cathedral led by Fr. Deogratious Kiibi. Together with Kyagulanyi's family, various opposition politicians, MPs, Artists and civilians attended the mass in large numbers.
Internationally, the arrest, torture and detention of the MPs has attracted massive criticism coming from Human rights agencies, foreign governments, legislators, musicians and the Ugandans in Diaspora. The US State department voiced concern over the medical condition of detained MP Robert Kyagulanyi stating that they are watching the situation very closely with regards to MP Kyagulanyi after receiving multiple credible reports about his condition.
In contrast, President Museveni had earlier dismissed reports that MP Kyagulanyi had been tortured while in detention claiming that the reports are mere 'fake news'. The President also added that MP Zaake had escaped and the police is looking for him though the legislator is currently battling for his health in a hospital after severe torture from the security officers who arrested him from Arua.