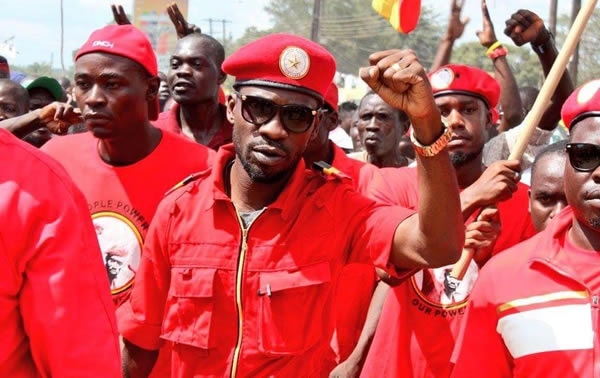 Kyandondo East Member of Parliament and popular singer Robert Kyagulanyi, alias Bobi Wine has been charged with treason over allegations of possessing a gun and he is to be tried before the court martial.
Robert Kyagulanyi was arrested and detained on Monday together with four other MPs including Gerald Karuhanga (Ntungamo Municipality), Paul Mwiru (Jinja East), Michael Mabike (Former Makindye West MP) and Kassiano Wadri ( Arua Municipality MP elect).
The arrest of the MPs, together with 28 other people happened on Monday this week following the alleged stoning of one of the vehicles in President Museveni's convoy during the conclusion of the campaigns for the Arua Municipality Parliamentary by-election. The President had gone to Arua to campaign for the NRM flag bearer Mrs. Tiperu Nusura.
The Arua Municipality by-elections were organized by the Electoral Commission to fill the empty seat left by the former MP Ibrahim Abiriga who was shot dead on June 8th this year as he was driving back to his home in Kawanda a Kampala city suburb.
Mr. Kassiano Wadri a member of the Forum for Democratic Change (FDC) but came on an independent ticket won the Wednesday elections with 6,528 votes (38.06%) followed by National Resistance Movement's (NRM) Tiperu Nusura with 4,763 votes (27.77%). Ejiku Robert also indepemdent was third in the race wit 2,703 votes (15.76%) while Forum for Democratic Change's Musema Bruce followed with 1,372 votes (8.00%).
However, regarding MP Robert Kyagulanyi gun allegations, his family claims that the charges against him are completely false with his wife one Barbie claiming that her husband does not even know to handle a gun. The family members went on to ask for the immediate release of Bobi wine claiming that all the charges put against him are politically motivated.
The government announced that Mr. Robert Kyagulanyi is to be charged before the army court in Gulu over possession of a gun. Other MPs are also expected to be charged with yet-to-be known offences.
Robert Kyagulanyi commonly referred as the "Ghetto President" hit the Ugandan political scene last year after winning the by-election of Kyandondo East Consitituency Parliamentary seat as an independent candidate. Since then, the popular singer has used his music fame to influence people politically.His political influence has been noticed through the massive election victories he has been able to influence for all those candidates he campaigned for. These include Jinja East MP Paul Mwiru, Bugiri Municipality MP Asumani Basarirwa and the most recent victory of Kassiano Wadri in Arua Municipality.
It is against that background that some people especially those on the opposition claim that MP Robert Kyagulanyi had become a threat to the government since all his efforts have been directed towards strengthening the opposition.