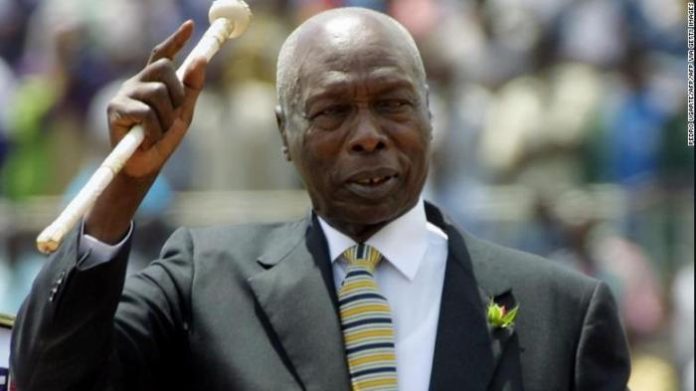 Former Kenya president Daniel Arap Moi who ruled the country from 1978 to 2002 has died at Nairobi Hospital in the capital at the age of 95 years.
Moi's death was announced was announced by Kenya's President Uhuru Kenyatta who also declared a period of national mourning and said Mr. Moi would receive a state funeral. The President did not clarify on the cause of his death.
Mr. Moi became Kenya's president in 1978, 15 years after the country had acquired independence from Britain in 1963. He became president following the death of Jomo Kenyatta, the country's founding father who had handpicked Moi for vice president.
Unlike his predecessor (Kenyatta) who governed behind closed doors, Mr. Moi's leadership saw him traveling the country trying to unite its divided ethnic and tribal groups hence gaining wide popularity. He introduced free milk for children and fought hard to stop the endemic graft and to elevate Kenya's struggling tourism-and-agriculture sector. His anticommunist policies won him huge Western support during the Cold War.
Moi was widely criticized for suppressing the opposition in Kenya and forming a single-party state that characterized his 24-year dictatorial reign. His critics accused him for putting his face on the bank notes, ordering his portrait to hang in offices and shops, using national resources to enrich his family and tribal cronies and stashing billions of Kenya's money in overseas banks.
During his presidency, Moi won five successive elections including 3 times when he was unopposed in 1979, 1983 and 1988. He exercised absolute power as the head of government and sometimes he could dismiss judges and other officials despite the post-independence constitution vesting such authority in a National Assembly.
According to reports from United Nations, Amnesty International and Africa Watch, Moi was accused of controlling the news media, police and military services, closing universities and suppressed his opponents with detentions, torture and killings.
In 1982, some 2,100 low-ranking air force officials attempted an unsuccessful coup against Moi's government due to rampant corruption, abuse of power and a deteriorating economy. Moi ordered for the arrest of the entire team, imprisoning and executing hundreds. Shaken by the attempted coup, Moi ordered all civil servants to join the ruling political party which he presided over as president.
Investigations carried out after Moi had stepped down as president found that his family and allies had received as much as $4 billion from his government, the biggest fraud in Kenya's history.
In 2002, Moi was barred from running for presidency by the constitution and he subsequently agreed to hand over power in a rare smooth transfer on the continent by then. Although Moi supported Uhuru Kenyatta, a son of Jomo Kenyatta in the elections, they were won by his long-term opponent Mwai Kibaki who had lost to him in 1992 and 1997. In a surprise U-turn, Mr. Moi supported later supported Kibaki's re-election in the following polls.
After his retirement, more evidence about corruption and human rights abuses were found by his successors than had been expected. Although corruption inquiries implicated him and his family, Mr. Moi was never prosecuted even when Kenya found $1 billion in stolen funds overseas in 2003. Others in Mr. Moi's administration were pursued but he was spared and treated as an elder statesman.
Who was Moi?
Moi was born to Toroitich Arap Moi on Sept 2, 1924 in Kuriengwo, a Rift Valley village in western Kenya. Moi lost his father who was a herdsman when he was just four years. Moi's family originated from the minority tribe of the Kalenjin.
He attended the Africa Mission School at Kabartonjo from where he became a Christian and adopted the name Daniel. He graduated as teacher from Kapsabet Teacher Training College and he taught classes from 1945 to 1947 before he became headmaster of a government school.
In 1950, Moi married Helena Bommet with whom they had five sons and two daughters and another adopted daughter.
Mr. Moi joined politics in 1955 when he was appointed by the British to the Colonial Legislative Council. Two years later, he was elected to the council when black Kenyans were allowed to vote. He joined a London conference in 1960 that drew up a Kenyan constitution authorizing African political parties. He was later elected assistant treasurer of the new Kenya African National Union (KANU). KANU later merged with Moi's founded party, Kenya African Democratic Union to become the sole political party in the country.
Mr. Moi was appointed by Mr. Kenyatta as minister of home affairs in the new government in 1964 and later vice president in 1967.