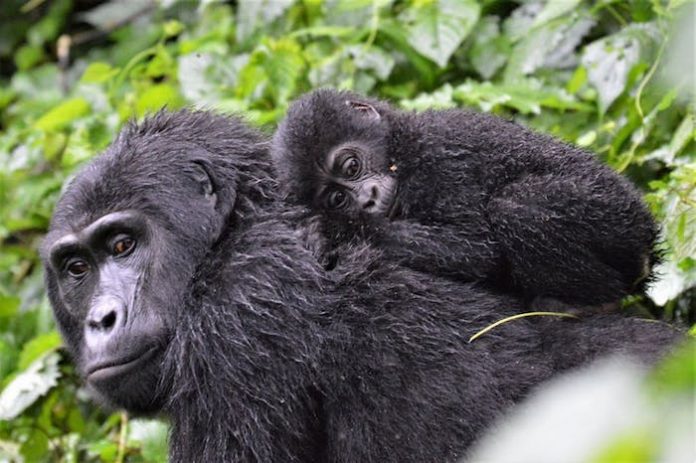 President Museveni has provided an update on gorilla and chimpanzee tracking in Uganda during his 14th address of the nation on the state of COvid-19 in the country.
The president said that gorilla and chimpanzee tracking should remain closed to tourist in order to avoid the easy spread of the virus to apes and primates.
"Bwindi for mountain gorillas and Kibale Forest chimpanzees, we do not want the virus to spread to our relatives," said the president.
In addition to gorilla safaris to Bwindi Impenetrable National Park and Kibale Forest National Park which protect mountain gorillas and chimpanzees respectively, the rest of the national parks in the country also remain closed to tourism.
The Uganda Wildlife Education Center (UWEC) the national zoo at Entebbe and the Jane Goodall Chimpanzee Sanctuary at Ngamba Island on Lake Victoria also remained closed to all tourist activities.
Unfortunately, both UWEC and Ngamba Island Chimpanzee Sanctuary have also been affected by the rising water levels from Lake Victoria. Both have had to appeal for funds in order to feed the animals given the absence of revenue from tourists during the lockdown period.
President Museveni also acknowledged the contribution of the tourism industry to the economy of Uganda citing that the industry fetches the country over $1.6 billion per annum. However, the president said that caution has to be taken before tourists are allowed to come back into the country for safaris.
"International borders and airports remain closed to avoid the importation of new cases," President Museveni said.
The tourism industry in Uganda is one of the most affected sectors by the Coronavirus pandemic with majority of those employed in the sector stuck at home with nothing to do following the suspension of tour activities.
In order to forge a way forward, the stakeholders in the industry led by their trade associations including the Association of Uganda Tour Operators (AUTO), Uganda Safari Guides Association (USAGA), and Uganda Hotel Owners Association (UHOA) under their apex body Uganda Tourism Association (UTA) are engaged in several discussions with the Uganda Tourism Board (UTB).
The stakeholders are soliciting for assistance from government and donor agencies for support of employees, rent arrears, rescheduling of bank loans taken by hotels, lodges and tour operators. They are also seeking support to create a tourism fund for micro-credit, loans, social security, and tax benefits for sustainable business operations.
Covid-19 cases in Uganda
As the tourism sector in Uganda is waiting and hoping to resume operations soon, the country has so far registered 264 cases of Covid-19 of which 65 have recovered, 80 admitted in hospitals and no deaths. Some foreigners especially truck drivers from Kenya and Tanzania and a few Rwanda and Burundi nationals who have tested positive in Uganda have been sent back for treatment in their home countries.
Easing lockdown measures
According to the latest communication from the president, the current lockdown measures will be eased starting next week starting with allowing private cars to move on 26 May. Restrictions on public transport will be relaxed on 4 June but this will not apply to the border districts according to the president.
"Private cars will be allowed to move on the 26th May. For border districts, we shall not allow public or private transport. They are on the frontline. They are the ones that can either save or destroy us by allowing infiltration from neighboring countries. For public transport in the districts that are not near the border, this will be relaxed on June 4. During this time, those concerned will discuss with transporters and make sure everything is in order," Mr. Museveni said in a televised address on Tuesday.
The president said that boda-bodas (motor cycles) should not carry passengers but may continue to carry cargo. On education, he said that officials from the Ministry of Education will on June 4 give guidance on how candidates/finalists will resume studies.
On shops and hotels, the president said that they can resume on May 26 while following social distancing and using face masks. He added that gyms, saunas, and night clubs will still be closed.