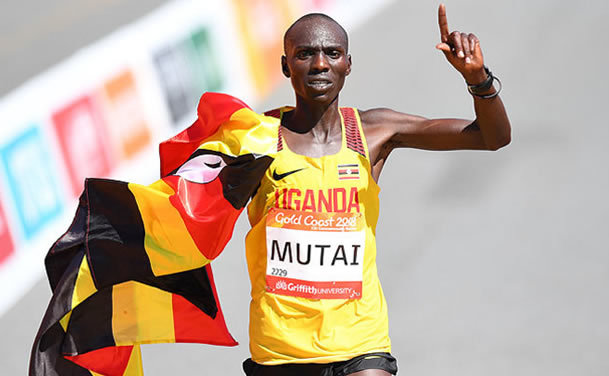 Mutai Wins Silver Medal in Marathon
The month of April 2018 called for celebration in Uganda the pearl of Africa after her own Solomon Mumyo Mutai won a silver medal in the athletic men's marathon final during the 2018 gold commonwealth games at the south port Broadwater parklands venue on the gold coast. Our own Mutai finished second at 2:19:02 a few seconds after Michael shelly from Australia who finished at 2:16:46 making him the first runner. In addition to Mutai, Uganda also won the seventh and tenth position by Alex Chesakit and Robert Chemenges also represented Uganda in the seventh and tenth position respectively which really indicates a boom in Uganda's sports industry. This was Mutai's second win of the silver medal since 2015 when he first won a bronze medal in the marathon in 2015 IAAF championships in Beijing china. Also, this years victory come after 48 years since 1970 when Uganda last won a medal in marathon. If you did not know, sports game is one of the top things that feature Uganda as an exceptional destination. Uganda sports complement the popular gorilla tours done in Bwindi impenetrable forest and Mgahinga gorilla national park, game viewing safaris in the open savannh grassland national park, mountaineering safaris, bird watching tours and cultural visits which together make complete Uganda safari package fit to meet, satisfy and exceed every all travelers interests.
This year was unique in its own kind where out of the 23 athletes that represented Uganda in the marathon, four won medals in different games. Out of the 23 athletes that were qualified for the marathon, 4 athletes namely Thomas Ayeko, Winnie Nanyondo, Kacob kiplimo, and Juliet Chekwel all finishing at the top which performance has transformed Uganda to another step. All together, Uganda has a total of 6 silver medals, which have been won in different games. The silver medal winning came a day after Juma Miiro (Boxer)won a bronze a bronze medal in the 46-49kg-weight category which was the country's second of the games.
Besides Mutai, Joshua kiprui Cheptegei is another blessing to the pearl of Africa. In the same month of April, Joshua won two gold medals in the 5,000m and 10,000m races which performance put Uganda on the world sports map. In the women's sports, Stella Chesang was the first runner women's 10,000m gold medal followed by Mercyline Chelangat who won a bronze medal in the same race. This year 69 athletes from Uganda have taken part in different sports activities which include track and field events, badminton, squash, boxing, rugby, netball, weightlifting, swimming, table tennis, cycling and shooting among other games.
Uganda has hit a comeback into the game by scoring this high since 1970 when the country last performed this best. In1970, the events took place in Edinburgh a hat trick of gold from boxers James Odwori (light flyweight), Mohammed Muruli (light welterweight) and Benson Masanda (heavyweight) capped a remarkable show that was complemented with here silvers from boxer Leo Rwabog (flyweight), Deorgratius Musoke (featherweight) and athlete William koskei.
Conclusively therefore, Uganda hopes to perform best in the coming years surpassing the 1970's sport in Edinburgh and 2018 game in gold coast. The pearl of Africa is blessed indeed. Book a safari to Uganda, Take part in sports tourism, see the mountain gorillas and other tourism activities in different parts of the world rewarding you with a memorable life changing experience.