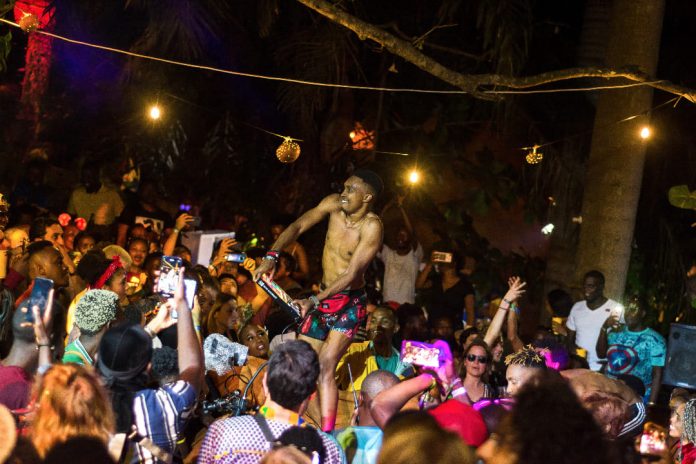 Nyege Nyege is annual festival which takes place in Uganda's eastern city of Jinja as a collective that promotes outsider music performed by a variety of African artists. The event was started in 2013 by two expats, Derek Debru and Arlen Dilsizian. It's name was derived from the Luganda language spoken in central Uganda which means "shaking the body excitedly." This year's festival which will take place between September 15 and 18 will run under the theme of 'Peace, Love and Joy.'
You should not worry about the past Pandora of covid but this is going to be a jubilation of a lifetime as you are going to have an endless partying experience for over 96hours with lots of exciting funs and events that are scheduled for the event as only your pockets will determine the amount of fun you're going to have at the festival.
This time round it's going to be marvellous for the city revellers and other outgoing party animals that are destined to be at the grand opening of the festival.

Many organisations have partnered with the premium brewing company known as "Uganda Waragi" the spirit of Uganda as the main sponsors of the event and with trust this year's 7th Edition is going to be colourful with lots of revellers expected to attend from different parts of the country and vast nations worldwide.
This time round the government of Uganda through ministry of tourism and wildlife and antiquities with guidance of the prime minister there have been new restructures that are put in place to ensure proper lining of the events activities towards cultural dimensions.
The festival driving force 

Perhaps this event has turned to be a driving force in regards to the promotion of the local based artist's music and dance as it stimulates a lot of vigor and rhythms which have a multicultural sound style of play.
The event has led to revolutionary technological advancement with most artists now days prefer the use of modern technology production of their music.
Music and dance 

Preferably Music and dance moves together now and before in Africa, with the unfortunate part of it when represented at the global level, these two peripherals often get divided. As the Nyegenyege project aims building music and dance as a single entity with some steps fore taken involving contemporary dancers and choreographers to construct a modern perception towards the musical industry.
This time round the first phase of the event will be taking place Uganda surrounding the Nyegenyege festival with all the residencies before and after the project is done.
Basing on the musical facts Nyegenyege festival re ignites people with different cultures and religions from different parts of the world as they team up together to celebrate such a highly projected festival full fun music and others which will simply stirrup peoples joy.
What else to see and do while in Jinja

Jinja being one of the industrialized cities in Uganda and the second largest after Kampala city, you should not miss key tourisms facts while around this area as listed below.
Source of the Nile Visit.
White water rafting experience at the Nile
Bungee jumping experience
Visit Masese landing site
Busoga Kingdom cultural exploration
Kagulu rock climbing
A lot has been said on the Nyegenyege festival with bit of contrasts from other Ugandan leaders section of the parliament who has been asking on torrent issues concerning the festivals aims but this has been later resolved and given green light by the first premier minister of Uganda since this festival looks towards promoting tourism and also show casing different cultural dimensions a cross.