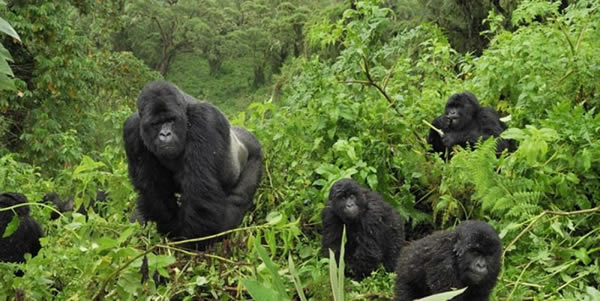 Uganda Wildlife Authority (UWA) has announced an extension of discounts on tourist rates including fees for park entrance, gorilla trekking, birding and chimpanzee tracking to end of June 2021.
The initial promotion started in December 2020 and was scheduled to end by the end of March 2021 but the authority has decided to extend it for further 3 months in order to continue promoting more visits to the country's national parks.
According to officials from UWA, low tourism visits to the parks due to the global lockdown brought about by Covid-19 has also necessitated the extension.
"We make reference to our letter dated November 27, 2020 offering promotional prices on park entrance, birding and gorilla permits from December 2020 to date. We have reviewed the performance progress, so far and have agreed to extend this promotion from March to June 2021," said Mr. Sam Mawanda, Executive Director of UWA.
According to Mr. Mawanda, the extended promotional rates include 50 percent discount on park entrance and birding fees to all national parks and wildlife reserves across the country.
Normal tourism rates/promotional rates in Uganda (up to June 30 2021)
Park entrance
Foreign non-residents – $40 (Shs146,000)
East African residents – Shs20,000 for adults, Shs3,000 for pupils and students, and Shs2,000 for wildlife clubs for category A national parks which include Murchison Falls, Queen Elizabeth, Kidepo Valley, Bwindi Impenetrable, Mganinga Gorilla, Kibale and Lake Mburo.
Gorilla trekking
Foreign non-residents – $700/$400
Foreign residents – $600/$300
East African citizens – Shs250,000/Shs150,000
Chimpanzee tracking
Foreign non-residents – $200/$150
Foreign residents – $150/$100
East African citizens – Shs150,000/Shs100,000
The new promotional rates for gorilla and chimpanzee fees will only apply to new purchases between April 1 and June 30 2021 but on reschedules of already deposited on permits according to Mr. Mawanda.
According to Mr. John Gesa Simplicious, the UWA spokesperson, the extension in promotional rates is meant to encourage domestic tourism as well as giving a chance to more local and international tourists to visit the parks.
Uganda's most popular tourist attractions
Uganda is one of the best tourist destinations in Africa and the country is popularly referred to as The Pearl of Africa due to her beautiful natural sceneries, warm weather, rich and diverse wildlife, vegetation, fertile soils, among others.
Gorilla trekking in Bwindi Impenetrable National Park and Mgahinga Gorilla National Park both in the southwest of the country is the leading tourist attraction in Uganda. These are Uganda's two homes for the endangered mountain gorillas which are only found in Uganda, Rwanda and Democratic Republic of Congo (DRC).
Other key tourist attractions in Uganda include game viewing, birding, chimpanzee tracking, mountain climbing, cultural and historical tours and water experiences like white-water rafting, kayaking, bungee jumping and boat cruises at the source of the Nile.