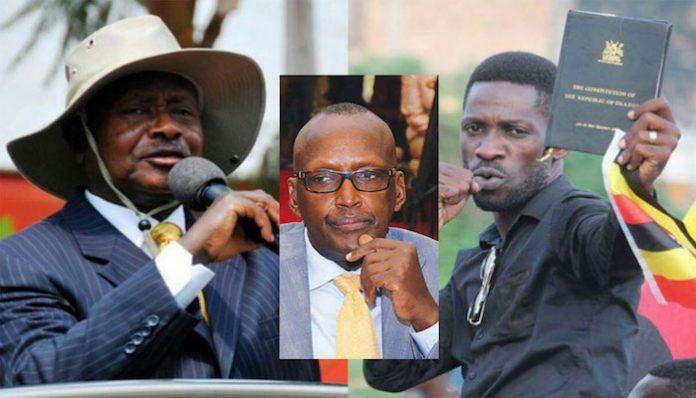 It's now a countdown of months as Ugandans prepare to go to polls to vote their leaders including president and members of parliament in February 2021.
The race to the polls is getting hotter by day as several candidates with their supporters continue to clash with their opponents for different positions. With the nomination for MPs and local government candidates complete, it's now a scramble among them to win over more voters in a complicated environment of virtual campaigns. The nominations for presidential candidates are scheduled on November 2 and 3 with over 80 individuals having already expressed interest in the top most office in the country.
However, as the whole country now looks charged up already for these hotly contested elections, there are many questions that are running through the minds of Ugandans regarding the exercise.
Will the chaos and violence seen in party primaries be transferred into the general elections?
This is one of the most worrying factors among the people who have already witnessed the chaos and violence that marred party primaries particularly those of the ruling National Resistance Movement (NRM) which led to loss of lives of some people. There is a common assumption that if people were so desperate to the extent of killing one another just for the sake of getting a party ticket, it may just get worse during the national elections when candidates are competing to occupy offices.
What will be the effect of independent candidates on the performance of party candidates?
One of the major results of party primary elections was the emergence of a huge number of independent candidates most of whom are those who were defeated in their parties during the primary elections. Many of these were aggrieved after the results and they claimed cheating, unfairness as some of the factors that made them to lose. They were efforts from their parties to talk to them and convince them not to stand as independents but support the flag bearers though they were fruitless. After last week nomination of parliamentary candidates, the Electoral Commission reported that most of the nominated candidates were independents. This has caused a big panic among political parties since many of these are seen as equally strong or even stronger than the endorsed flag bearers something which may deny them victory in the general elections.
Will candidates afford virtual campaigns
Due to the need to control the spread of Covid-19, the Electoral Commission declared that all political campaigns will be conducted using internet, social media and media channels to control gathering of the masses. But many candidates have already complained about the huge cost of these avenues claiming that they can't afford them and that that many of their supporters don't have either TV or radio and they can't also afford to buy data for internet. Despite the outcry, the Electoral Commission has refused to compromise on its guidelines and maintains that candidates should conduct their campaigns virtually. Some opposition candidates have also claimed that they have been denied airspace since most of the TV channels and radios are owned by members of the ruling NRM or their supporters and therefore they cannot allow opposition candidates to air their views using their platforms.
Will police stop suffocating opposition politicians?
The Uganda Police has been accused of sidelining with the ruling NRM against opposition political parties. This has been evident in the buildup to the general elections with police intervening and forcefully stopping activities organized by opposition parties. Teargas, bullets and rubber bullets have always been used to disperse supporters of opposition supporters and their leaders with the police claiming that it is enforcing measures to control the spread of Covid-19. However, members of the opposition are claiming that the police do this intentionally to cripple their programs while they take no action against those of NRM whose supporters were always seen gathering in large numbers with no police intervention during the party primary elections. Recently, the police, army and military invaded the offices of the National Unity Platform (NUP) at Kamwokya in Kampala and confiscated several items used by party members including uniforms claiming that they are illegally used. Robert Kyagulanyi Ssentamu, the party president and presidential flag bearer claimed that this was an act to intimidate his supporters and it was also widely condemned by many other politicians.
Will presidential candidates be presented a leveled ground to campaign?
This is still in big doubt having already witnessed some of presidential aspirants like Robert Kyagulanyi Ssentamu alias Bobi Wine being denied access to radio stations to communicate to his supporters. On one occasion, Kyagulanyi was prevented entering the premises of a radio station in Mbale, eastern Uganda with which he had planned a talk show and had paid for the program already. Him and his supporters were subsequently teargassed as he was immediately driven away back to his home in Kampala. After witnessing this, supporters of opposition candidates claim that their members are likely to be denied a levelled ground to campaign as President Museveni will be traversing the whole country talking on radios and TVs without any limitation.
Will the country witness the first ever peaceful transfer of power?
This is a dream of many Ugandans whose country has never experienced a peaceful transfer of power from one president to another the gaining of independence in 1962. Historically, presidential elections in Uganda have been followed by violence, rebellions and coups and the country awaits to see what will happen this time round. Some Ugandans are optimistic that maybe this is going to be the first tie in the country's history to have a peaceful transfer of power while others are skeptical that this is unlikely to happen given the history, greed for power and lack of free and fair elections.
Will the Electoral Commission be able to organize a free and fair election?
Over the years, especially following the declaration of election results the Electoral Commission has been accused of lacking the credibility to organize a free and fair elections. All Uganda's presidential previous presidential election results have been contested in courts of law while others led to the outbreak of rebellions like the one in 1980 which led to the bush war that brought president Museveni into power in 1986. Even today, several candidates and their supporters are already threatening to do something if they feel that elections were not free and fair and it remains to be seen what exactly will happen in February next year.