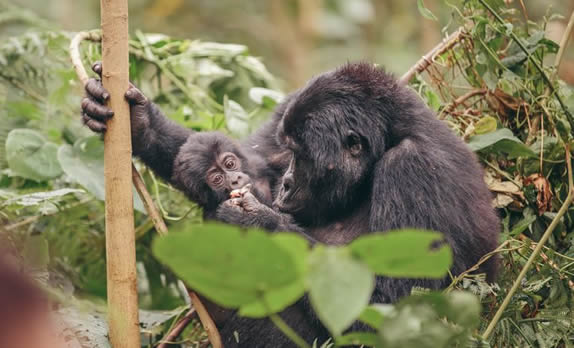 Gorilla trekking is that one unique wildlife experience that makes Uganda safaris complete. It is such a magical experience that shouldn't miss out in your bucket list. Imagine that moment after a long hike and finally, you bump into a group of mountain gorillas! Ideally, it is such a magical encounter that brands this adventure lifetime. Where on earth can you have such a rare experience if not only in Uganda, Rwanda or the Democratic Republic of Congo (DRC)?
Where to go for gorilla trekking in Uganda
When planning to trek mountain gorillas in Uganda, expect to pay a visit to only Bwindi Impenetrable Forest National Park and Mgahinga Gorilla National Park. These two parks are situated suitably in southwestern Uganda on the Albertine rift just at a border with DR Congo. While here, you have the opportunity to realize your dream in any of the habituated gorilla families and about 17 of them have been habituated and readily available for visitors to track each day in this magical country. In Bwindi National Park, gorilla treks are conducted in any of the 4 main trailheads that include Buhoma, Nkuringo, Rushaga, and Ruhija area. Each of these sectors has habituated families with Buhoma area comprising of Mubare, Rushegura, Habinyanja, and the newly introduced Katwe group; Rushaga sector is composed of groups like Nshongi, Mishaya, Busingye, Kahungye and Bweza; Nkuringo region features Nkuringo and Christmas family. In Ruhija, the available groups for you to trek include Bitukura, Kyaguliro, and Oruzogo. Actually, packages like 3 days Bwindi gorilla trekking tours are the most selling trips in Uganda. For those of you who may wish to trek gorillas in Mgahinga National Park, Nyakagezi is the only habituated group that set for this adventure.
When to track mountain gorillas in Uganda
For any plans to track mountain gorillas in Uganda, the dry and wet/rainy seasons are the two most significant seasons you have to put into consideration. The longest dry season for this case is experienced from June to September and the short begins from December to February. This period experiences very low rainfall amount and the habitat is kept relatively drier thus making it easier for you to hike through the dense vegetation and steep slopes. The rainy/wet or off-season starts from March to May and from October to November. This season is characterized by heavy rainfall and it is usually challenging for one to hike through the dense vegetation and slippery steep slopes while in search for these creatures.
How much are gorilla permits in Uganda
In order for you to be allowed to track gorillas in Uganda, you will need to have a permit. You can obtain a permit in Uganda at $600-for foreign non-residents, $500 for foreign residents and shs.250000 for East African residents. You are encouraged to book your permit early enough at least 3 months or even a year earlier before the actual trek given the high demand and the fact that one habituated group is only limited to 8 visitors per day. Permits in Uganda can be obtained through a trustworthy and recognized tour operator or through reservationist at Uganda Wildlife Authority.
What to wear for the gorilla trek
For any plans to take part in this life-changing experience in Uganda, you have to be well-prepared especially on which items to consider in your packing list. To guide when packing for your trip, you will need good waterproof hiking boots that are lightweight, insect repellent, gardening gloves, a camera with no flashlight, bottled water, and energy giving snacks, long sleeved shirts/t-shirts and many others.
What to expect on a gorilla trek
Usually, gorilla trekking comes with lots of imaginations and expectations. But what is important and what you should expect is that you need to come along with a valid passport as it will be required at the park headquarters plus a gorilla permit. These are mainly required for verification purposes and after, you have a briefing on gorilla trekking rules and regulations. It is from this time that you will be assigned to 1 habituated group to track in a group of 8 visitors. Each group is accompanied by 1 well-trained and experienced park ranger guide and upon finding these creatures, you have only an hour of the magical encounter.

Where to spend a night while on a gorilla safari in Uganda
While planning a gorilla trip to Uganda, accommodation is that one thing you have to put into consideration. The most interesting part of it that Bwindi and Mgahinga national park where gorilla treks are always conducted in Uganda feature a number of safari lodges in and around that you can choose to make your trip successful. If you are heading off to Bwindi Impenetrable Forest National Park, the midrange safari lodges for you to spend a night include Gorilla Mist Camp, Gorilla Valley Lodge, Nkuringo gorilla camp, Silverback lodge, Engagi Lodge Bwindi and many others. The budget options include Broadbill Forest Camp, Buhoma Community Rest Camp, Wagtail Eco Safari Camp, Nshongi Camp a mention but a few. Luxury safari lodges, on the other hand, include Buhoma Lodge, Chameleon Hill Lodge, Mahogany Springs Lodge, Clouds Mount Gorilla Lodge, Gorilla Forest Camp, Gorilla Safari Lodge, Ruhija Gorilla Safari Lodge, Volcanoes Safaris Bwindi Lodge and many more. In Mgahinga Gorilla National Park, the notable accommodation options include Mount Gahinga Lodge, Mucha Hotel Kisoro, Kisoro Tourist Hotel, Traveler's Rest Hotel Kisoro and Amajambere Iwacu Community Camp. Most importantly, the cost for these lodges differ and usually range from $70 to $900.
How to get to Bwindi and Mgahinga National Park
Both Bwindi and Mgahinga National Park are reachable by road and air. By road, the options include the Kampala-Kabale-Kanungu-Buhoma route that takes you on a tarmac highway till Kabale for approximately 414 and this is about 6 to 8 hours' drive. You then connect via Kanungu and Kanyantorogo to Buhoma. You may also start your journey from Kampala via Kabale to Nkuringo and this is ideal for those you who wish to explore habituated families within the Nkuringo sector. The other route takes you from Kampala to Ntungamo to Rukungiri then to Kihihi and Buhoma. This is one of the most rewarding routes given the fact that it takes you via Queen Elizabeth National Park where you have a chance to catch a glimpse at the rare tree-climbing lions at Ishasha sector.
If your plan is to track mountain gorillas in Mgahinga National Park, you can take the Kampala-Kabale-Kisoro route and this can take you approximately 8 hours. Alternatively, you can take a flight from Entebbe International Airport or Kajjansi Airfield and you land into Kisoro Airstrip where you can connect by road to either Bwindi or Mgahinga National Park. A road trip to any of these parks requires a 4 wheel drive safari vehicle.
Rule and regulations for gorilla trekking
When it comes to gorilla trekking, a number of measures apply and while on a gorilla trek, every trekker is required to observe them at all times. They play a significant part both in safeguarding these endangered creatures and you the trekker while in the wild. They include no touching a gorilla, no flash camera is allowed while taking photos of gorillas and if your camera has a flashlight, you are requested to turn it off; do not go to track gorillas if you are sick, cover your mouth when coughing or noise when sneezing, do not smoke, eat or drink when you are with gorillas, maintain a distance of 7 meters away from gorillas at all times, only 8 visitors are allowed to track only 1 habituated gorilla family, only an hour is given to you to strike your imaginations with gorillas.
In conclusion, gorilla trekking is that one remarkable primate adventure you should consider in your travel plan. In Uganda, you can take part in this experience in either Bwindi Impenetrable Forest National Park or Mgahinga National Park.