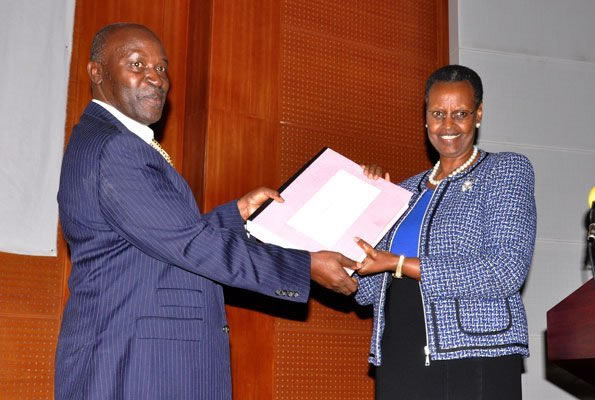 The Uganda National Examination Board has released the results of last year's Uganda Certificate of Education.
Cabinet minister for education Hon Janet Museveni together with her counterpart the state Minister for higher education Hon John Chrysostom Muyingo were both present at the official release of the results at Statistics House in Kampala.
According the results read by the UNEB Executive Secretary Dan Nkorach Odongo, boys performed better than girls in the overall performance of last year's O'Level exams. However, girls performed better in individual subjects like English but their male counterparts out-performed them in all the other subjects.
Mr. Odongo mentioned that a total of 335,435 candidates were registered last year and this indicated an increase of about 10,000 candidates compared to those registered the previous year (2017). 152,278 were beneficiaries of the Universal Secondary (USE) Education program.
There was an increase in the number of candidates who passed the exams compared with the previous year (1,000 candidates). Improvement in individual subjects has been registered and these include English, Islamic Religious Education and Physics. However, there is still a challenge in passing of other science subjects especially Chemistry which was the worst done subject.
UNEB Chairperson Prof. Mary Okwakol notes that the UCE process went on smoothly and she approved the candidature increase was from 0.9% in 2017 to 3.3% in 2018.
The UNEB Secretary also noted other key areas as far as last year's results were concerned:
The issue of language deficiency affected performance significantly and this was exhibited in candidates' failure to interpret questions correctly. Candidates were more comfortable answering direct questions but found trouble with more logical questions and those that required some level of analysis.
It was also discovered that some candidates produced crammed passages from the texts instead of writing their original compositions. Mr. Odongo blames the teachers for failure to train candidates to produce original work but rather encourage them to cram written texts with the hope that they will be awarded more marks.
There is still a challenge in the handling of apparatus in the science subjects and writing balancing equations in Chemistry and this partly explains the huge failure registered in the subject.
A deficiency in conducting of practical lessons in time by students was also pointed out. The Secretary says that teachers wait until late towards the final exams and that is when they introduce students to practical lessons something that leads to their poor performance in such subjects.
Teachers have also embarked on giving candidates spotted areas using the past UNEB papers which limits them from reading other parts of the syllabus. Failure to complete the syllabus by the teachers while teaching students has been pointed out as one the major causes of failure. Students have subsequently failed questions asked from parts of the syllabus they didn't cover.