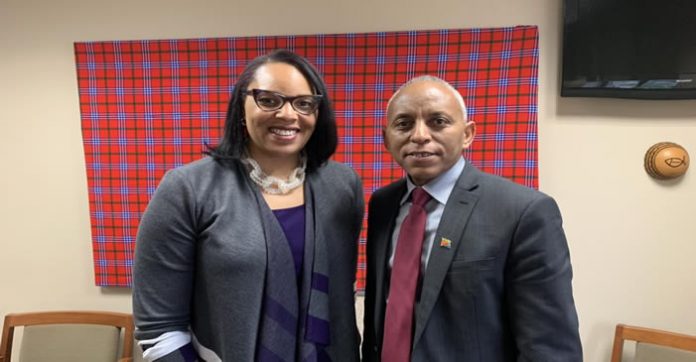 Natalie E. Brown is the incoming United States Ambassador to Uganda who will be replacing Deborah Ruth Malac the outgoing ambassador who has been working at the mission since November 2015.
According to the U.S Department of State, Ms. Brown is a career member of the Senior Foreign Service, class of Counselor.
Before her appointment in Uganda, Ms. Brown served as the Chief of Mission of the U.S Embassy in Asmara, Eritrea since 2016. Before this, she served as Deputy Permanent Representative and Deputy Chief of Mission of the U.S Mission to the United Nations Agencies in Rom, Italy between 2013 and 2016.
From 2010 to 2013, Ms. Brown worked as Deputy Chief of Mission of U.S Embassy in Tunis, Tunisia where she witnessed the Tunisia Revolution, an intense 28-day uprising against the government over corruption, social inequality, and employment that eventually led t the ousting of former president Ben Ali in January 2011 who had ruled the north African country for 22 years.
In a statement that listed Ms. Brown's demonstrated competence for her nomination as the U.S ambassador to Uganda, the Department wrote, "In a career that has spanned almost three decades, she has garnered experience in both bilateral and multilateral diplomacy with a strong focus on Africa. That experience coupled with her distinguished record of leadership, make her an excellent candidate to serve as U.S Ambassador to the Republic of Uganda."
Earlier Career
Ms. Brown's earlier saw her take on several roles in the Middle East including serving as the Economic Counselor of the U.S Embassy in Amman, Jordan and as the Political Chief of the U.S Embassy in Kuwait.
While in Washington, she served as a Senior Watch Officer in the State Department Executive Secretariat's Operations Center and as an International Affairs Officer in the Office of the UN Political Affairs in the Bureau of International Organization Affairs.
Ms. Brown's experience in Africa does not stop in Tunisia, she had previously worked as the State Department's Desk Office for Mali, Burkina Faso, and Niger in the Office of West African Affairs. Other assignments in Africa included the one in the U.S Embassy in Addis Ababa, Ethiopia, and the U.S Embassy in Guinea Conakry.
Education background
Ms. Brown graduated with a B.S from the Georgetown University of Foreign Service, Washington, D.C. in 1988. She obtained her M.S from the U.S Marine Corps Command and Staff College in Quantico, VA, in 1999. She has received various State Department awards for her performance. Ms. Brown is a capable linguistic who speaks several international languages in addition to English including French, Arabic, Italian, German, Amharic, and Tigrinya.
Ms. Brown is described as a resilient crisis manager who possess vast experiences in various disciplines after working in different parts of the world. Brown talked about her versatility in Women in Foreign Policy, "I've done a little bit of everything, from ordering supplies for the embassy to managing assistance funds. I've spent the past three decades on food security issues with the UN agencies charged with increasing agriculture production and reducing hunger," said Brown.